The Founders Club draws prospective homeowners in with its more than 700 acres of natural, lush landscape, its growing list of luxury amenities, and the camaraderie between residents and members. To match the beauty and luxury of our boutique-style community, we choose to team up with London Bay Homes, an experienced Sarasota home builder with more than 25 years of experience, to bring you luxury custom homes that perfectly complement these surroundings.
The Founders Club community features 262 home sites among the beautifully landscaped acres filled with soothing lakes and gently swaying stands of pines, palms, and moss-covered oaks. Each home site is generously sized to adequately furnish your dream home and is surrounded by lake views, nature preserves, wetlands, a golf course, or often all four. Take a drive down the curved streets wrapped around tree lined vistas and you'll see luxury custom homes designed and built by Sarasota home builder, London Bay Homes. As a custom home builder, London Bay Homes offers a selection of single-family detached villa homes and Reserve Collection homes ranging from 2,500 to more than 6,000 square feet of living space. Each home design is fully-customizable and provides many great design options and abundant flexibility so you can have the chance to express your own personal style in a beautiful Sarasota luxury community.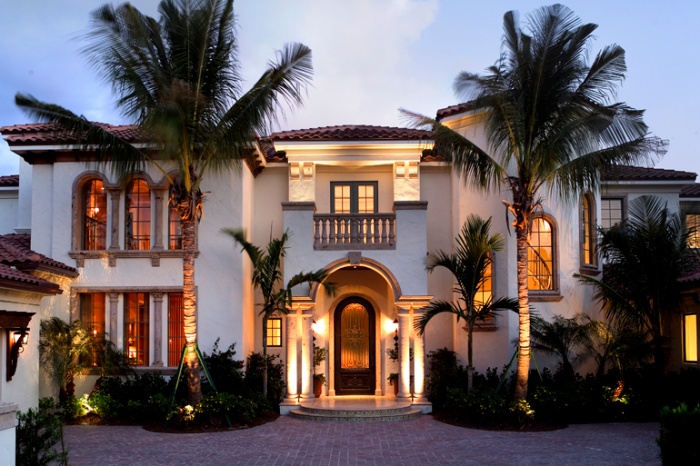 If you're looking for something a little more grand, London Bay Homes' team of architectural, design, and construction experts can design and build a one-of-a-kind estate home that embodies the vision you've always had for your dream home. With a One-of-a-Kind home, the sky is the limit with architectural and design options, but you can start by looking at some of our luxurious estate homes for ideas on where to begin. These homes range from 5,398 square feet to more than 8,000 square feet and offer an ambience unrivaled by other homes. Being that they are greater in size, these homes also offer even more ways to customize your space and can be transformed into a true one-of-a-kind home. Estate home sites range from a half acre to one acre and share the same gorgeous views as other Founders Club home sites, meaning you can choose between a grand lake view, a nature preserve view for added privacy, or an expansive golf course view.
If you're ready to start your home building journey, we'd recommend choosing an experienced Sarasota home builder that can deliver on your dream home. London Bay Homes has built some of the finest luxury custom homes in Southwest Florida for more than 25 years and has earned more than 300 awards throughout that time. Their path to success is in their signature Private Label Living that delivers complete satisfaction every step of the way. This luxury home building process embodies the company's singular commitment to the highest possible level of personal service by striving to anticipate every client's needs, wants, and desires—often before the clients themselves even realize them. Their team of architectural, design, and construction experts will build a home that is a true reflection of you and your luxury living lifestyle, while making sure to communicate with you so you always have the latest updates on your home.
Enter a new world of architectural elegance and distinguishable design with London Bay Homes.