If you want to live in a place where you can spend carefree days and nights with picture-perfect views and a variety of activities from which to choose, consider the benefits of a luxury home community in a city "Where Urban Amenities Meet Small-Town Living!" The Founders Club is a country club community in Sarasota, Florida highlighted by the beauty of lakes, nature preserves, and wetlands, as well as the appeal of outstanding social camaraderie, a plethora of activities, and, of course, gorgeous custom homes.
Let's delve into what makes The Founders Club such a unique, boutique-style community and why the Manatee-Sarasota Building Industry Association named it Best Overall Community and recognized it with the Best Amenities and Best Entranceway awards during the 2015 Parade of Homes.
---
1. Location and Nature
Our residents say the convenient location and beauty of their community is a major stress relief. After all, home is where you should feel the most comfortable and relaxed.
The Founders Club features 700 acres of picturesque lakes, nature preserves, and gently swaying stands of pines, palms, and 100 protected moss-covered oaks for a relaxing and luxuriously natural setting.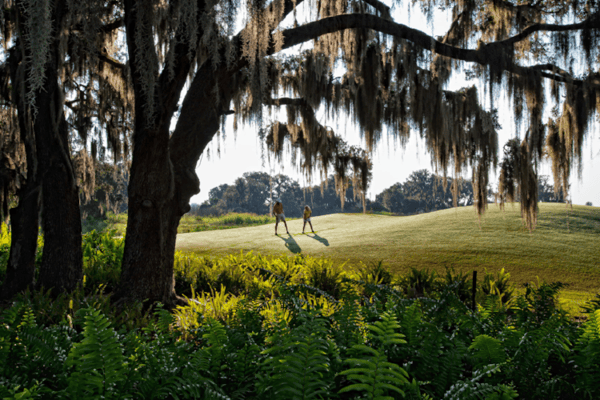 There is also a variety of birds and wildlife, such as turtles and deer, that take residence in our community and complement the glorious surroundings. You would think that a natural location such as this would be away from the many benefits of city living but The Founders Club is conveniently located just minutes from I-75, a vibrant downtown area, and world-class, award-winning beaches, so residents get the best of both worlds by being close enough to enjoy the benefits of city living, but far enough away to be free of the hustle and bustle associated with them.
In this prime location, Founders Club residents can escape to the sun and fun on the award-winning beaches found along the Sarasota Keys before enjoying some post-beach shopping pleasure in St. Armands Circle or at the Mall at University Town Center just one exit away, where there is 880,000 square feet of retail space featuring Saks Fifth Avenue, Macy's, Dillard's and more than 100 stores and restaurants.
Residents and guests can then finish the night enthralled with the entertainment in the Theater and Arts District. Humberto and Deborah Vanieri, residents of The Founders Club community for nearly 10 years explained that the community's location and nature was one of the reasons they chose it to begin with:
"This community is very peaceful; half of the acreage is preserved. There's wildlife and quietness. You can go into town, though, and it's only 15 minutes away. It's a great location if you like both worlds."
When members are not off for a day of fun on Sarasota's white sandy beaches, shopping at the legendary St. Armand's Circle, or enjoying the beautiful sounds of the Sarasota Orchestra, they can always take part in the many luxury amenities The Founders Club offers.
---
2. Clubhouse and Dining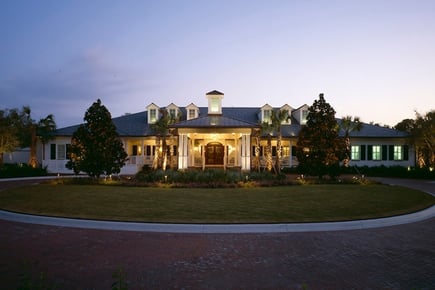 The Founders Club creates an ideal setting for fostering resident camaraderie with a full calendar of social activities in addition to our fitness options managed by a professional staff at the grand, 24,000-square-foot Golf Hall. Here, members can gather like family to enjoy mutual interests, engage in stimulating conversations, or kick back and just have some good old-fashioned fun.
The Club's fine dining room offers an elegant setting for a luxurious dining experience, while the bar and grille and outdoor verandah overlooking an oak hammock provide a casual atmosphere for a delectable lunch. Reservations in our dining rooms can be made for two, but after arriving, you may find yourself seated in a table of eight enjoying food, drinks, and fun, especially if you join the Club during one of its themed dinner nights, Bingo and Trivia Nights, wine tastings, gourmet kitchen and cooking classes, luxury auto and boating showcases, monthly mixers, and many more fine living programs. Other substantial events held at The Founders Golf and Social Club include a Halloween hayride through the community in October, a holiday shopping event and tree-lighting ceremony in December, and a Santa Brunch right around the holidays.
The events held by the staff help foster camaraderie between members and residents, a goal set forth by the community from the very beginning. Humberto and Deborah Vanieri attribute the social camaraderie experienced in the community to the similarities residents and members share:
"For whatever reason, we seem to attract similar-minded people; a lot of retirees and families; a nice mix of people. Everyone gets along. There's a camaraderie here. It's not just friendly, it's welcoming. When there's someone new to the club, the majority will make an effort to make them feel comfortable and welcome…it's the friendliest, warmest atmosphere in terms of people that live in the community we've ever experienced. We've lived in several other clubs across the country; this BY FAR is the friendliest and nicest."
3. Amenities
Luxury amenities are always high on a prospective homeowner's "must-have" list and The Founders Club delivers with a fitness center, golf program, tennis program, and many others. The fitness center hosts many classes, like pilates, yoga, and, dance, while the fitness facility features state-of-the-art equipment if you want to put on some headphones and work out alone. If you would like to take your workout outdoors, The Founders Club offers Har-Tru tennis courts, basketball courts, and sand volleyball courts, as well as miles of paved walkways found throughout the community's 700 acres.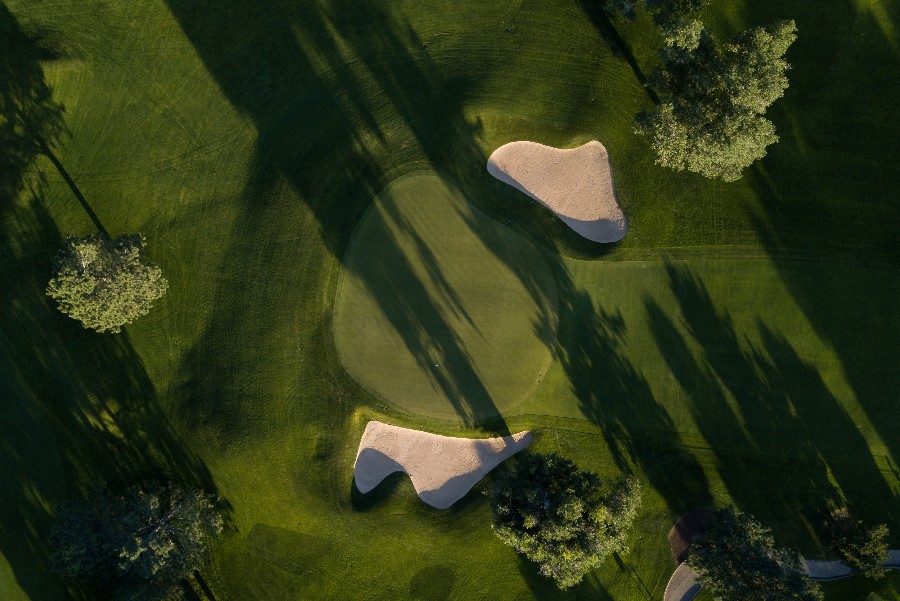 As part of the social calendar, the community also host men's, women's, and couples' events on the Robert Trent Jones, Jr. designed 18-hole golf course. During the golf events, residents and members can sign up individually and allow The Founders Golf and Social Club to pick the pairings. This allows members to get to know each other while doing something they love The golf program at The Founders Club also allows members to spend their days taking advantage of the area's only traditional caddie program, two putting greens, a recently enlarged driving range and remodeled short game area, and state-of-the-art Trackman® Technology offered through Florida Golf Performance Center.
The Founders Club Learning Center is also equipped with FlightScope for custom fitting and best quality instruction by our PGA Professionals. Since membership is limited to just 275 people, members can enjoy year-round golf with no tee-times required.
After you've reached your optimum heart rate, you can always schedule a massage through the fitness center or take part in the stretching programs. You can even ask for the masseur to come to your house so you can enjoy your spa experience at home.
4. Luxury Homes
If the allure of the neighborhood has yet to settle in, The Founders Club homes are the final piece to this luxurious living puzzle.
Only 262 home sites can be found among the 700 beautifully landscaped acres and each is generously sized to adequately furnish your dream home. Estate home sites range from a half acre to one acre and every single home is surrounded by lake views, nature preserves, wetlands, a golf course, or often all four.
Prospective homeowners looking to uncover the luxury living treasure of The Founders Club can schedule a meeting with one of our premier custom home builders.
Deborah Vanieri was pleased with the overall offerings and design and build process delivered by London Bay Homes, "With other builders, you see the same floor plan over and over and over again. We didn't want that. In the end, no other builders could compare with London Bay. I gave all the other builders my 3-page wish list; nothing was missing from it with London Bay. They did it all!"
She also added, "Everyone is always looking to make it the most aesthetically pleasing. We'd meet with them over and over again; they NEVER said to us, 'ok, are you done yet?' They wanted us to be happy; they made us feel very special. It's a unique experience. It's been such a fun process."