With more than 700 acres of lush landscape, nature preserves, and glistening lakes, The Founders Club is prime Sarasota real estate for those looking to build a home with a spectacular view. Every over-sized home site in this quaint community is surrounded by lakes, nature preserves, wetlands, a golf course, or often all four, and the last thing anyone wants to do is waste that spectacular backdrop on a mediocre outdoor space. For this reason, we have come up with tried and true ways to make the most of the beautiful natural setting The Founders Club provides.


Cool Off and Revitalize with a Splash
It's safe to say that most people love a good lake view, but some are not the type to go jumping off a rope into a lake for a swim. What they will do is swim a few laps in a gorgeous custom pool before floating peacefully, inviting the serene sounds of nature to coax their bodies into a relaxed state without wondering if a gilled friend will be nibbling at their toes. Yes, a pool is certainly a must-have when living in sunny Florida with an amazing view.
You may also feel the need to revitalize your muscles in the outdoors after an invigorating workout at The Founders Club's fitness facility, so a spa adjacent to your pool, is also ideal when making the most out of your outdoor space. A Dirty Arnold Palmer or a glass of wine is seemingly optional.


Cook Your Meals in a Picturesque Setting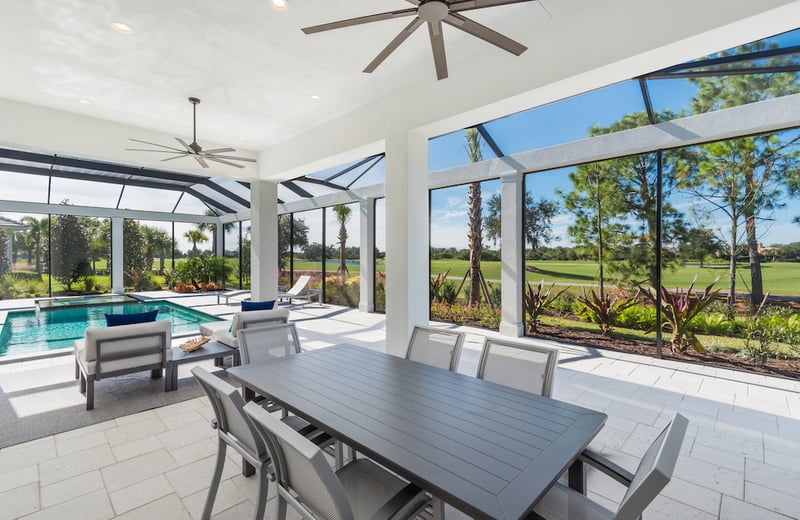 You can't waste a good view by cooking all of your meals inside. By having a full summer kitchen constructed with a stainless steel grill, an under-counter refrigerator, and a sink, you can delight in al fresco cuisine. An outdoor dining area will also ensure that warm rays and cool breezes will complement the delectable dishes and exquisite ambiance afforded by the view.
Outdoor dining doesn't only have to cater to lunch and dinner. Sundays morning can be made quintessential with a nice steaming cup of coffee or tea, the newspaper, and a beautiful sunrise coming through the trees or over the water.


Find a Cozy Spot Outside to Admire the View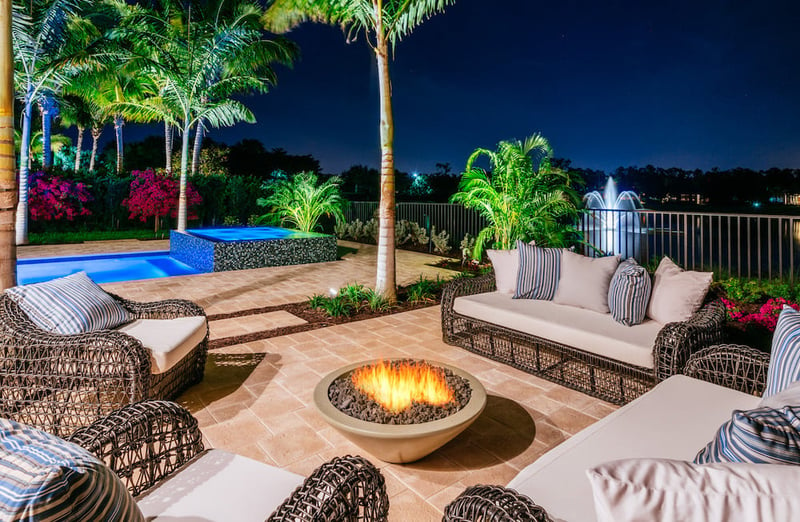 When you're not swimming or dining, the magnificently natural backdrop of your home can still be put to outstanding use with a swing, hammock, or some comfy outdoor seating for a relaxing evening. All of our model homes are designed with space for outdoor seating, so homeowners can fully appreciate their picturesque surroundings.


Get Rid of Pesky Bugs
Now, let's talk about those pesky bugs. Yes, some of us may have a soft spot for our tiny friends, but anyone who lives in or has visited Florida will tell you that mosquito bites are quite a nuisance and anyone enjoying a marvelous day in the outdoors does not want to be sidetracked by an itchy problem. Don't spend your afternoon swatting at those nettlesome fiends; grab your green thumb – or if you have a black thumb like I do, hire someone who has one – and plant some herbs that will repel mosquitoes.
Citronella and marigold are two lovely plants that will rid you of your unwanted guests, the ones of the winged variety anyway. Citronella has a citrusy scent that masks the smells in your backyard that attract mosquitoes. Think of it as a natural air freshener. Marigold is also effective in keeping mosquitoes away because of its natural scent which repels them. Plant marigold around the border of your yard and mosquitoes will read it as a Do Not Enter sign. Other herbs such as rosemary, basil, lemongrass, and garlic will also naturally keep mosquitoes away.
Another bonus for planting these citrusy plants in your backyard? They also repel snakes' prey, eliminating their need to stay in your backyard.
If you're in a pinch and can't wait to introduce these new plants in your yard, you can always invest in some mosquito repellant candles or backyard torches. Those will not only do the trick, but they will also provide mood lighting for all of the relaxing evenings you are sure to have in your luxurious outdoor space.


Bring Your View Indoors
Homeowners that would rather stay indoors to take full advantage of the much-needed air conditioning can still admire their outdoor surroundings. Homes for sale in The Founders Club also feature wall-to-wall sliding glass doors that allow you to sit on your couch, dining room table, Master Suite sitting area, or any other comfy chair in your home to admire the abundant nature found in your backyard, no mosquito repellant or sunscreen needed.
If you're looking for the perfect backdrop for your luxury custom home, consider The Founders Club and its over-sized home sites situated on 700 beautifully landscaped acres. Here, homeowners have the opportunity to expand on every aspect of their Founders Club home and still have the space to enjoy the luxury, privacy, and beauty associated with this boutique-style community. Estate home sites range from a half acre to one acre and every single home is surrounded by lake views, nature preserves, wetlands, a golf course, or often all four, making an over-sized home site ideal to truly appreciate the picturesque views from your home.