The experience of getting out on the trail is unique and delivers benefits beyond what you can get from a typical exercise. It is a moment of stimulating sights, self-reflection, and challenging yourself in nature. Besides, the activity improves your physical health immensely.
Once the interest of going for a hiking adventure hits your mind, the first thing is to choose one from the many walking nature trails you may know. Unfortunately, settling on the perfect trekking trail to hike is a surprisingly difficult decision to make for many hikers.
But if your destination is Sarasota, you don't have to stress anymore. Here are the best nature trails in Sarasota, Florida.


1. Myakka River State Park
Myakka River State Park is a spectacular place for hiking and other fun activities such as backpacking and birding. It is a scene spiced up by the live oaks and arching palm trees reflected on a snaky stream. You'll come across turtles and alligators resting lazily on riverbanks and logs while the cries of the osprey and limpkins pierce the air.
This nature trail has multiple offshoots that can adjust the length of the trip or link to campsites to give you a multi-day adventure experience. However, be ready for some direct sun. The Myakka River finds its way through prairies, wetlands, pinelands, and hammocks that form the Myakka River State Park.


2. Nathan Benderson Park
Nathan Benderson Park is among the nature trails in Sarasota with plenty of recreational pursuits. The unique community park sitting on a 600-acre land provides public access to a spectacular 400-acre lake. An approximately 3.4 miles neatly manicured loop around the park is a perfect trail to challenge your stamina with a jog or walk. In addition, the full calendar of community causes and championship events makes this park fantastic for family and friends.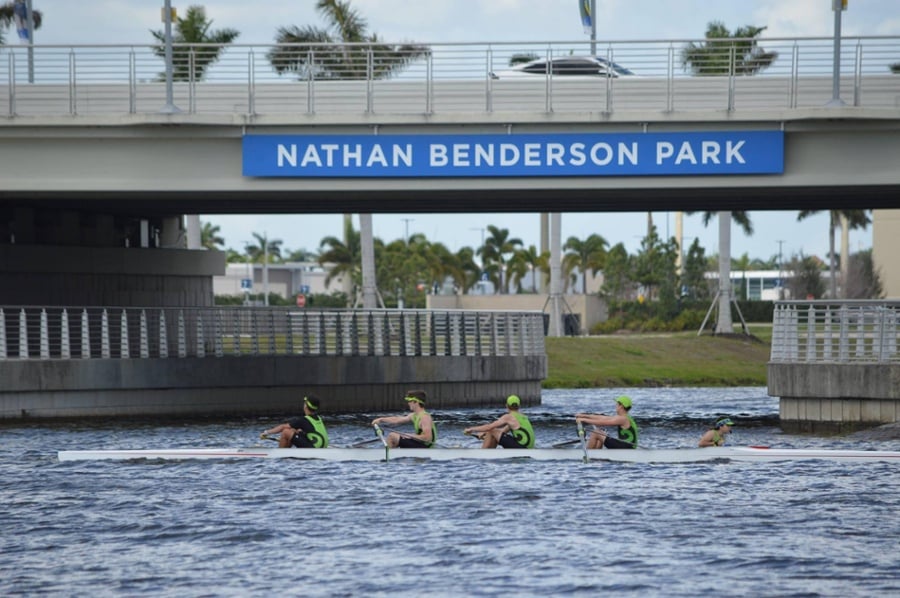 3. Oscar Scherer State Park
Oscar Scherer State Park provides a unique hiking experience due to its location. Surrounded by an urban area, it is an unexpected oasis that provides visitors with a refreshing getaway into natural Florida. The 15 miles of nature walking trails offer beauty, solitude, challenge, and a healthy hiking experience for everyone.


4. Rothenbach Park Loop
Rothenbach Park is a 6-kilometer loop nature trail near Sarasota, Florida. This site, formerly a landfill, is lightly trafficked with an elevation gain of approximately 0 ft, thus rated easy for the trail. Rothenbach Park is accessible throughout the year, and hikers primarily use it for running, hiking, and jogging.
You have the option of a one-mile or a 2.75 miles trail that features wildlife. You can expect to encounter deer, woodpeckers, and hawks along the partial canopy-covered trails. When you feel like resting, you can sit and listen to the calm nature on one of the many benches along the trail. As you cross the rugged wooden bridges, you'll enjoy a panoramic view of the alligators soaking in artificial wetlands, deer grazing on the grassy slopes, and model airplanes soaring above.


5. Celery Fields Loop
Enjoy a 1.4-kilometer walking nature trail near Sarasota that provides scenic views. Celery Fields Loop gives you a nice scenic view since it is the only elevation in that part of Florida. The moderate trail is popular for walking, trail running, hiking, and nature trips.
You'll come across a variety of wildlife ranging from wild rabbits to birds. This site which sits on more than 400 acres of land, belongs to Sarasota County. Its construction began in 1923 for vegetable production but now serves as a flooding mitigation zone for the Phillipi Creek Basin.


6. Heron Nest Nature Park Loop
If you want an incredible hiking experience between October and April every year, then Heron Nest Nature Park Loop is a perfect deal. The 1-4 kilometer nature trail in Sarasota, Florida, is ideal for all skill levels. People commonly use it for trail running and walking while it gives you a chance to see wildlife. You can also go with your dog but ensure you keep it on a leash.
---
Ready to have an exciting hiking experience in Sarasota? Reach out to us to learn more about the Sarasota lifestyle and how The Founders Club homes have everything you want and need for luxury living in Sarasota.