Take a stroll through a park and you'll undoubtedly feel a sense of calm as the white noise of life slows to a dull roar and a smile plays on your face. This isn't a test for your love of nature, but a confirmation of the healing aspects of it. Turns out, nature can help us fight depression and stress, as well as increase focus and immunity, so why not plan the design of your outdoor living space to ensure you spend a good amount of time outside soaking up the health benefits of our natural resources?
At The Founders Club, residents have the luxury of living on oversized home sites - Estate home sites range from a half acre to one acre - and each one is surrounded by lakes, wetlands, nature preserves, a golf course, or often all four. The view alone can maximize your health and happiness, but planning out a practical and fun outdoor living space will ensure you make the most of your backyard view. Here are a few tips on what to include to succeed in doing just that:
Custom Pool
Opting to include a pool in your outdoor living space is an easy way to spend some time outside. Imagine yourself lounging as you carelessly float on the blue-green waters of your custom pool on a hot summer's day. When the temperature drops, hop over to your raised spa to relax your muscles and ease the chill in your bones.
Outdoor Living Area
On a beautiful day in Southwest Florida, give your favorite indoor chair or sofa a break and bring a book, laptop, or tablet outside to soak up some vitamin D while you're stimulating your mind. You can also position a swing, hammock, or another form of comfortable outdoor seating to take in the view of your picturesque setting or have a quaint little chat with a couple of friends.
Outdoor Kitchen
Beautiful weather is the only excuse you need to have a delicious barbecue and adding an outdoor kitchen to your home only sweetens the deal with a stainless steel grill, an under-counter refrigerator, and a sink to prep, cook, and serve your culinary treats to your waiting guests. Being close to nature may bring about some uninvited guests so be sure you place some mosquito repellant candles or backyard torches to shoo them away. Better yet, plant some citronella or marigold for some all-natural bug repellants.
If you want a luxury home community that takes the gift of nature to another level then schedule your tour of The Founders Club. Residents of this boutique-style community have the luxury of living just east of I-75, allowing them to be in close proximity to Downtown Sarasota and award-winning beaches, as well as the many other highlights of city living. However, they also get to enjoy the more than 700 acres of lush landscape, nature preserves, and glistening lakes, as well as gently swaying stands of pines, palms, and 100 protected moss-covered oaks. You may also get a glimpse of the variety of birds and wildlife that call this Sarasota golf community their home while you are taking a stroll on the lake-hugging boardwalk or while playing a round of golf on the championship Robert Trent Jones, Jr.-designed golf course.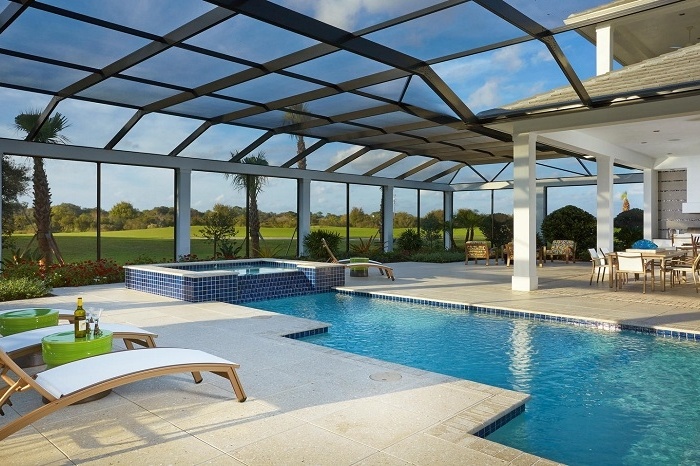 Of course, if you're ready to move into your quintessential home sooner rather than later, you can always take your pick from the many Sarasota Florida homes for sale in The Founders Club. Each home has an elegant outdoor living area that will satisfy your need for sunshine, breezes, and entertainment.
The Isabella Grande is a modified floor plan based on the popular Isabella II home by London Bay Homes. This version adds square footage and highlights the Master Suite for a beautiful estate home built with comfort and relaxation in mind. Aside from the focus on the homeowner's peace and tranquility, the Isabella Grande offers a gourmet kitchen with cafe, formal dining room, great room, and study, as well as an outdoor living space with a sparkling custom pool and raised spa with spillovers set against lush nature preserves.
The Pembrook model home that recently sold has a beautiful 3,560-square-foot layout featuring three bedrooms and four bathrooms and a wraparound alfresco space overlooking the golf course. The open floor plan emphasizes the importance of flow in a home with connections among the great room, luxury kitchen, and dining room. The gourmet-inspired luxury kitchen features a six-burner cooktop, a built-in microwave and oven tower, and a large freestanding island breakfast bar. The golf course home's outdoor spaces extend past the master bedroom's sundeck with a covered terrace just outside of the great room and access to the wraparound outdoor living area through the bonus room's zero-corner pocket sliders. Follow the wraparound alfresco space and you will arrive at the luxury home's outdoor kitchen and dining area.
Schedule your virtual tour of any or all of our Sarasota homes.