The Founders Club may be a unique, boutique-style community with more than 700 acres of natural, lush landscape. It may draw you in with the curved streets wrapped around tree lined vistas. The Sarasota luxury community can even be on your list of potential places to move because of its growing number of luxury amenities, its convenient location, and the quality and beauty of its custom homes. However, what will inevitably allow you to make your decision is the potential to be able to make it a home. At The Founders Club, we can be sure you will fall in love with our country club community, but you don't have to take our word for it; read what our residents have to say about the benefits of living here.
The Location
Humberto and Deborah Vanieri were one of the first families to move into The Founders Club nine years ago and enjoyed the fact that it was located east of I-75 so they could be in close proximity to Downtown Sarasota and the beaches and a vibrant downtown area. The addition of the new Mall at University Town Center was a bonus when it opened in October 2014 because of the 880,000 square feet of retail space featuring Saks Fifth Avenue, Macy's, Dillard's and more than 100 stores and restaurants.
Another benefit of The Founders Club's location is that its close enough to experience everything city life has to offer, but still far enough away to be able to appreciate the natural beauty and tranquility The Founders Club has to offer.
"This community is very peaceful; half of the acreage is preserved. There's wildlife and quietness. You can go into town, though, and it's only 15 minutes away. It's a great location if you like both worlds," said Deborah.
The Club Life and Camaraderie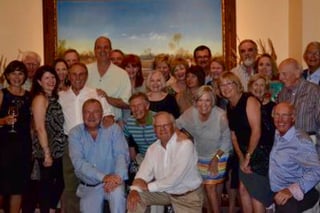 "What sets apart this community – it's the friendliest, warmest atmosphere in terms of people that live in the community we've ever experienced. We've lived in several other clubs across the country; this BY FAR is the friendliest and nicest," said Deborah Vanieri. She also added that the activities at the club are VERY well attended in season and that the reason it's so friendly is that the club is the CORE of the social activities. "The club and community are almost one. It makes our membership very eclectic and very friendly."
Continuing with the sense of family experienced at the club, Deborah also added, "For whatever reason, we seem to attract similar-minded people; a lot of retirees and families; a nice mix of people. Everyone gets along. There's a camaraderie here. It's not just friendly, it's welcoming. When there's someone new to the club, the majority will make an effort to make them feel comfortable and welcome."
This was the case with Kate and Peter Bradley, who knew they had found their home the very first night they entered The Founders Club Golf and Social Club: "I can remember the very, very first night we had at the Club…Everybody was just so happy and the atmosphere was just electric. I think we all started becoming friends from that very first night."
Her husband, Raymond, enjoys the social aspect associated with dining at The Founders Clubhouse. "It's large enough so that there are enough people we call very close friends, who are always here, but small enough to be intimate, personal."
The Founders Club Homes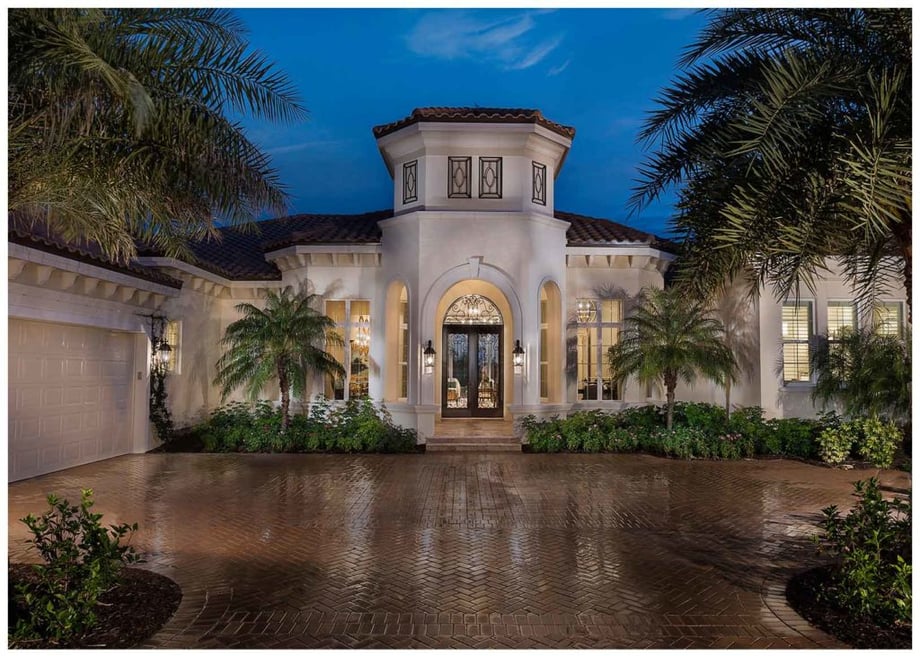 The community isn't the only thing that drew the Vanieri's into The Founders Club: The golf and country club community also features only 262 home sites among the 700 beautifully landscaped acres. Each is generously sized to adequately furnish your dream home and is also surrounded by lake views, nature preserves, wetlands, a golf course, or often all four. Humberto and Deborah say they chose London Bay Homes, the preferred builder at The Founders Club, to design and build their custom home in Sarasota - not just once, but twice! - because they simply had the best design and construction methods.
"With other builders, you see the same floor plan over and over and over again. We didn't want that. In the end, no other builders could compare with London Bay. I gave all the other builders my 3-page wish list; nothing was missing from it with London Bay. They did it all!"
Deborah added, "They designed a home on a beautiful lot with hundred-year-old trees overlooking a pond on the 7th fairway and green and fulfilled our wish list. We've been in the new home for less than a month busily getting it ready for the upcoming holidays when all of our children and grandchildren will be here."
Download our brochure or schedule your tour to learn more about what The Founders Club has to offer. Once you're here, our Sales Experts will be more than happy to schedule a lunch for you and one of our residents at the club so you can ask them any questions you may have about our country club community. We're confident you'll love what you hear.