Your master bedroom should be a reflection of you, as well a place where you can relax, think about the day's events, and prepare yourself for the days ahead. Thoughtfully prepare what design inspirations you would like in your safe haven by considering these tips and features for the master suite of your custom homes.
A master bedroom retreat should be a place of tranquility, a place to rest, and a place to break away from the chaos that is our every day lives. The first thing to consider for your master bedroom is your bed since we spend most of the time in our bedrooms sleeping. Do you want a king-sized, queen-sized, pillow-top mattress, sleep number mattress, four-poster, headboard, footboard? Consider the overall design feel you would like in your room and find a bed that speaks to it. And always opt for the most comfortable mattress you can find and an equally comfortable comforter and sheet set.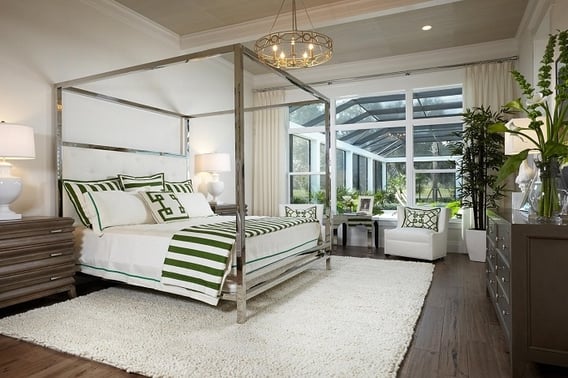 Once the bed is situated, move on to the other pieces of furniture in the room. Furniture pieces should blend with one another or artfully complement each other depending on your style. They should have the same look and feel even if they didn't come from the same store or catalog. For example, your nightstands and dresser don't have to be part of a set, but they should have similar details and styles. Don't mix a modern dresser with straight lines and flat surfaces with an ornately carved and traditional-style nightstand.
The same rule applies for the accessories in the room, as well as the overall color scheme. Choose soothing, warm paint colors to promote restfulness and peace. We love the look of neutral colors, soft blues, and soft greens for the walls, and complementary accent colors for the throw pillows, chairs, and accessories.
Lighting is also an important factor when designing the master bedroom in your custom home. Home automation allows homeowners to control the setting of their lights from a remote or an app on a smart phone. Choose this lighting if you would like to wake up to dimmed lights and increase the level as your eyes adjust or just leave an overhead light on for late-night reading. Bedside table lamps are also a great option when only a small amount of light is needed.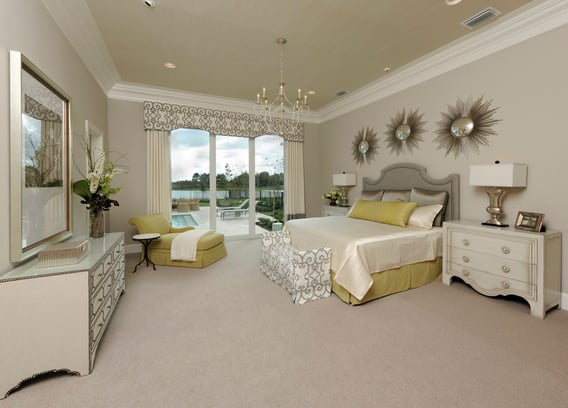 Since your master bedroom is now a retreat instead of just a bedroom, you should incorporate other living spaces in the area. Create a space in the room where you can read a book, meditate, or chat on the phone. This can be accomplished with a sitting area set off to the side were you can fit two arm chairs and a small table or a chaise lounge with a table and lamp. You can even opt for a piece of exercise equipment should you be so inclined as to start your day on a treadmill or stationary bike. You can also incorporate other small areas in your bedroom, such as a fireplace for chilly nights or a wet bar for when you are relaxing in your master retreat and just want a quick snack or a drink. Just make sure the architects and designers working on your custom home understand the importance and details of the added space.
An added bonus to a master bedroom retreat is access to an outdoor living space. Many of the custom homes built by The Founders Club's preferred Sarasota homebuilders have french doors or sliding doors leading from the master bedroom to a private outdoor space. Some of these spaces even have a private outdoor shower covered with a trellis.
The last feature of your master retreat is just as important as all of the others and that is the master bathroom. After a long, hard day, homeowners are discovering that a peaceful soak in a giant tub is just as relaxing as a day in the spa. This realization has prompted many homeowners to recreate the spa experience with a soothing atmosphere in their master bathroom utilizing soft lighting, a giant soaker tub, one-of-a-kind vanities, and a picturesque view from a large window.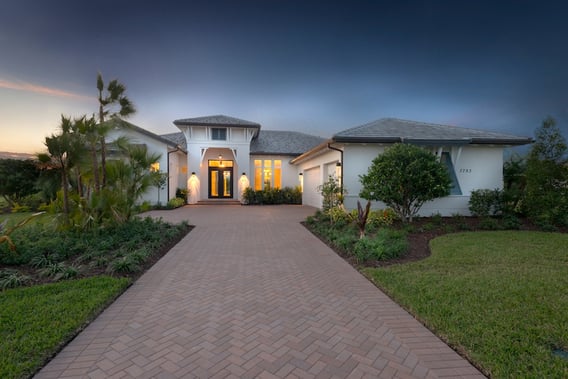 The Isabella Grande built by Sarasota home builder London Bay Homes at The Founders Club is a superb example of the importance of a master bedroom retreat. This single-family estate home features three bedrooms and three bathrooms in its 3,322 square feet of living space, but one of the highlights of the floor plan can be found in the details of the master bedroom. Recognizing the importance of a peaceful area of respite, the London Bay Home's architectural and design team created a modified version of their Isabella floor plan, adding an extra 300 square feet and a custom design that highlights the Master Suite. The extra room in the revamped floor plan allows for a bigger bed, a cozy chair with a small table in the corner for an ideal reading spot by the French doors, or even a statement piece of furniture like an antique armoire or a chaise lounge.
If the space indoors isn't enough, you can always open the French doors and inhale the fresh air from your outdoor living area complete with a sparkling custom pool and raised spa set against lush nature preserves. The master bedroom also features His-and-Her walk-in closets with custom cabinetry so you can adorn your space with designer bags and hats designed for style or practicality to ensure that getting ready in the morning will be efficient and stylish.
Pass the magnificent walk-in closets and you'll arrive at your personal spa-like retreat in the master bathroom. This room was re-designed with two furniture-style driftwood-finished vanities and a freestanding tub positioned in front of the two-entry Roman walk-in shower. Whether you want to glide through a quick shower or take your time in a warm and scintillating bubble bath, this master bathroom has you in mind.
Schedule an appointment with one of our knowledgeable Sales Executives in Sarasota FL to discuss the many custom home building options for your master bedroom retreat.