When you are building a luxury custom home, you want a home that meets your every expectation down to the finest details. The only way to achieve your residential bliss is by partnering with an experienced luxury home builder that has proven it can deliver.
If a home builder lacks experience, your chances for receiving a luxury custom home that is on time, on budget, and meets your expectations decreases. Don't trust just anyone to build your home. Before getting started, you should always take some time to shop for a home builder that you can trust and that will deliver on their promise of a dream home while providing clear, honest communication in the process.
Has the Luxury Home Builder Been in Business Long
Experience isn't something you can get from a textbook and it certainly doesn't happen overnight. The number of years a home builder has been in business can assist you in determining whether or not they know what they're doing. When you hire an experienced luxury home builder, they will be able to save you time and money by preparing everything beforehand and not making mistakes that will delay the process and increase the budget. For example, a home builder that has been in business for many years will know how to, and understand the importance of, finding the best materials at the lowest price and not just finding the lowest priced materials. An experienced home builder will also recognize potential issues with the home site and designs and provide clear and adequate solutions before those issues turn into mistakes.
Does the Luxury Home Builder Have a Reliable Team On Staff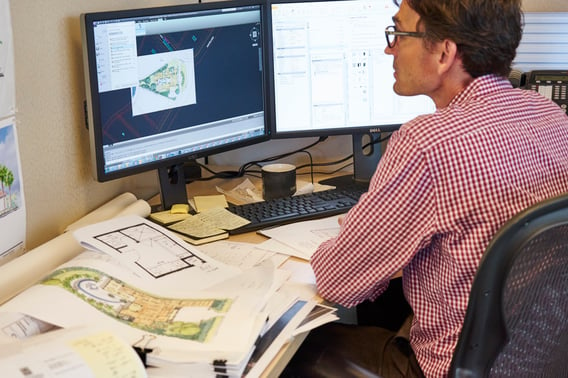 An experienced home builder will know that a professional team standing behind the company name will determine the success of a home build. When you are designing and building luxury custom homes, the communication between the architect, designer, and construction team needs to be flawless, which is why it is helpful to have everyone assembled under the same roof. This integration of architecture, design, and construction allows for you to go through the build process without the hiccups that can be found when maintaining a relationship between multiple companies. It also makes it easier to create a realistic budget and then monitor the cost and scope of the project from start to finish.
Does the Luxury Home Builder Have a Home Building Process
Experience will allow home builders to understand the need for a thorough and complete home building process. This isn't just the way they do things, but a proven, effective, and efficient process that will take you from designing the home to building the home and maintaining it after it's complete. It's understanding the home building cycle and learning from each and every home built to refine the process and increase customer satisfaction.
The Founders Club team understands that not every home builder is the same, which is why we team up with premier Sarasota home builders, like Anchor Builders, Arthur Rutenberg Homes, Lee Wetherington Homes, London Bay Homes, and Nutter Custom Construction. These homebuilders ensure our prospective residents will have the home of their dreams, offering a variety of floor plans ranging from three-to-five bedrooms and 2,200 to more than 6,000 square feet of living space. Home and homesite packages are priced from the $700,000s to more than $5 million.
Download our brochure to learn more about the luxury home building process at The Founders Club.