Construction in Southwest Florida is booming, so the choice between purchasing an existing home or building a home from the ground up is crucial if you want to start your home buying journey. Do you want a home with which you have been involved from the first cement pour to the last paint stroke or would you prefer a home that has a history of inspections that let you know exactly what the bumps may be down the road? Each option has its set of benefits and drawbacks, but here are the reasons we think you are going to love a new construction home at The Founders Club.
Picking Your Home Style
The Founders Club is a boutique-style community with luxury villas, single-family homes, and custom estate homes from which to choose. You may be lucky and find a resale home with the style you seek on sale, but the surefire way to get the type of home and floor plan you want is to build a new luxury custom home with The Founders Club. Our home sites set aside for villa homes are located within walking distance of The Founders Club Golf Hall and feature beautiful lake views in the front and golf course and preserve views from the back of the home. Our single-family homes on fairway home sites provide enough space for the whole family and are surrounded by lake, preserve, and golf views. The estate home sites are the largest available at The Founders Club and offer the most options for personalization. All of our home plans are fully-customizable so your future home can meld with your luxury living lifestyle, whether it be adding a wine room or expanding the outdoor living space to take advantage of The Founders Club oversized home sites.
Quality and Customization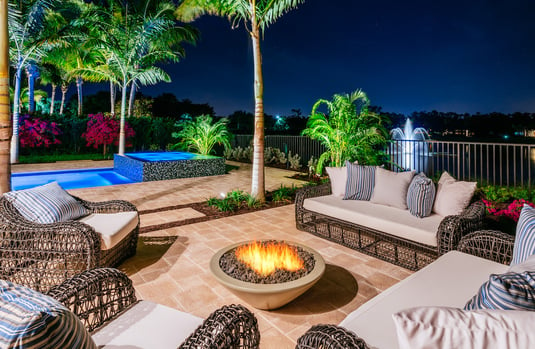 At The Founders Club, prospective homeowners can build their luxury custom home with one of the four available Sarasota home builders. Our luxury home builders each have nearly 30 years of experience or more and have been delivering exquisite custom homes to their clients with a streamlined luxury home building process that delivers complete satisfaction every step of the way.
As experienced Sarasota home builders, these companies also have the expertise to fully customize every one of the floor plans for The Founders Club homes, as well as build a one-of-a-kind home that will bring your home dreams to reality. This is a major benefit to building new as modifying an existing home may limit the changes you can make or bring about a slew of mishaps. Take advantage of the clean home slate by incorporating green technology in your home or setting up the perfect home theater. Whatever bonus rooms or material preferences, you can be sure our Sarasota home builders will accommodate your wishes.
Choosing Your Interior Design Style
Furnishings are something that can be changed regardless of the type of home you choose, but finishes take a little more time and money to swap out. You may fall in love with the layout of a resale home, but find that things like the flooring and countertops leave something to be desired or just don't fit in with your ideal interior design scheme. The ideal scenario is to choose your customized floor plan and then work with an award-winning interior design team to choose all of the furnishings and finishes that will fit into the stye you prefer. Even if you don't have a clue as to the style you want, these interior designers will be able to guide you towards the style that suits you.
Yes, finding an existing home in The Founders Club is entirely possible, but in order to get that new home feel with a house that was built specifically for you, prospective homeowners may want to consider setting up an appointment with The Founders Club's knowledgeable Sales Executives to begin their home building journey. If you want that new home feel, but don't want to wait for construction, take a look at the model homes located among The Founders Club homes.