The Founders Club boasts 700 beautifully landscaped acres featuring 100 protected live oaks and space for 262 luxury custom homes on large home sites overlooking nature preserves, lakes, wetlands, and the Robert Trent Jones Jr.-designed championship golf course. With such a picturesque setting, the luxury living community is proud to team up with luxury partners, London Bay Homes and Romanza Interior Design, to ensure that the homes situated on this land are as spectacular as the nature that surrounds them. And now, we're passing that luxury on to you with a few interior design tips from the award-winning team at Romanza Interior Design. The new design trends for fall 2015 are all about mixing and matching with an abundance of neutral colors and an array of patterns and textures to liven up the room. Check out each of the new – or comeback – trends we are seeing in home design.
Texture, Patterns, and Shape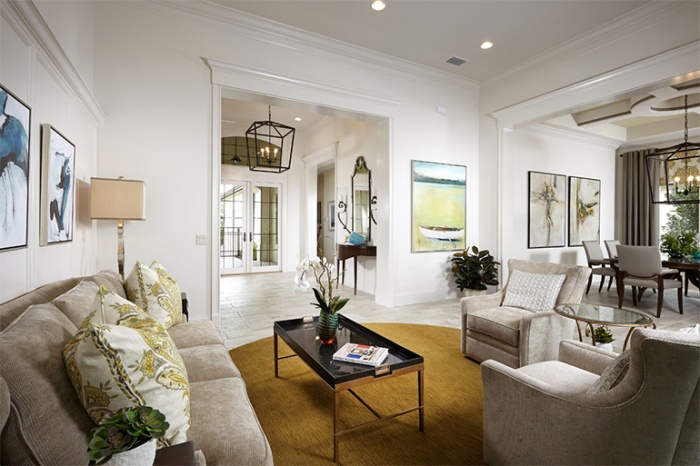 While summer trends are all about color, color, and more color, fall trends tend to stay on the more neutral side with textures, patterns, and shapes bringing life into each room. The living room in The Founders Club's Clara model is a great example of this trend. The three bedroom, three and one half bath single-family home has a textured area rug and a bold pattern on the throw pillows set against neutral furniture and wall color.
Distinct Design
Another fall design trend is the use of distinct design. Homeowners and designers alike are choosing pieces that tell a story or handcrafted pieces that become the main focus of a room. The coffee table in the living room of the three bedroom, three bath Girona home achieves the goal of distinct design with a unique mix of wood and fabric set against a neutral room. It is also located directly below another distinct piece in the room: the black iron chandelier.
Golds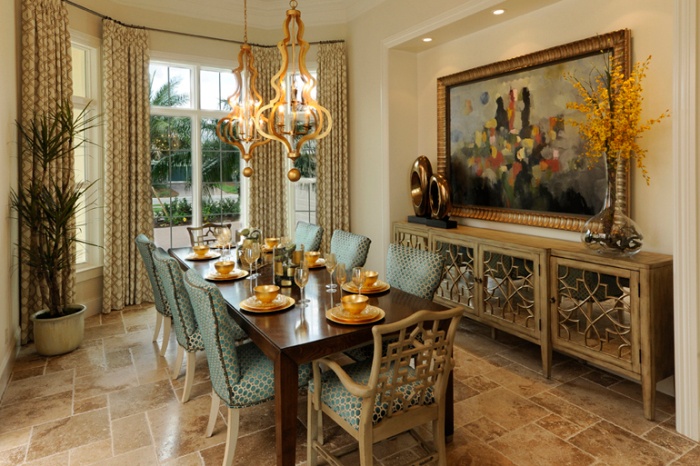 This interior design trend isn't about the King Midas touch, but it is about incorporating rich and vibrant gold tones in your home to create a luxurious fall appearance without having to use the outdated and muted tones of orange and red typically associated with the fall season. The four bedroom plus den, four and one half bathroom Delfina model home is a great example of this design trend as the home has many gold accents throughout its 4,329 square feet of living space. The dining room of this home showcases a bold use of gold with muted tones that bring balance to the design.
Collect and Display What You Love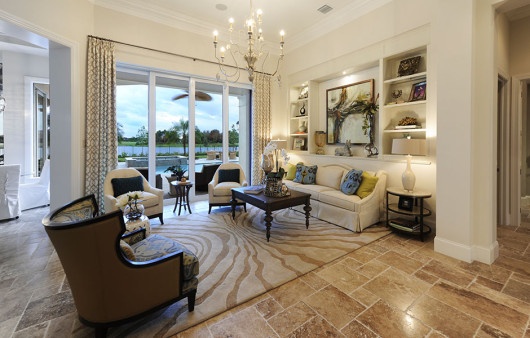 Your home should be a reflective of you and the life you have lived, so we are especially pleased with many homeowners choosing to display their curated items. You can pull of this trend in a variety of ways, such as on shelves in your kitchen, on a bookshelf in your office, or on a wall in your living room like in our Delfina model home. Show off the traditional Venetian Mask you purchased while in Italy or present your colorful hand-painted ceramic bowl from Morocco. Whatever you choose to display, make sure it tells a story about you.
Of course, if none of these design trends speak to you, the professionals at Romanza Interior Design are always available to assist you in your custom design needs. If you have just fallen in love with any of the model homes shown here, feel free to set up a tour with our knowledgeable Sales Executives at The Founders Club. We even have an unfurnished Belita model home just waiting for the right owner to add their personal style and flair.