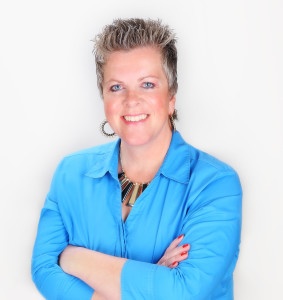 At The Founders Club, we are fortunate to have wonderful staff that make our work space feel like home. After all, we spend most of our adult lives at work, so we should always strive to find employment doing something we love with a company that employs hard-working and pleasant personalities. When guests walk into The Founders Club Welcome Center, they can be sure they will be greeted by the many smiling faces of our work family, including the smiling face of one of our Sales Executives, Deb Harris.
Deb was born in Buffalo, NY, but has lived in Southwest Florida for the past three and a half years. Upon moving to Florida, Deb began working for London Bay Homes, a Naples and Sarasota home builder. Utilizing her more than 30 years of real estate experience in both commercial and residential real estate, Deb quickly realized that she wanted to work directly with clients to help them find their ideal luxury homes. Since London Bay Homes offers a selection of 18 single-family detached villa homes, Reserve Collection homes, and one-of-a-kind estates at The Founders Club, a transition to sales at this boutique-style community was just what she wanted. Now, Deb enjoys connecting with people and helping them fulfill their dream of a new home whether in The Founders Club, West of Trail, The Lake Club, or Siesta Key. She revels in client relationships, stating "I don't look at clients as short term connections. I view them as life long friends and/or peers."
As a Sales Executive, Deb has realized that the most challenging part of her job is the moment she realizes a particular deal just isn't going to work. Maybe the budget doesn't work or the area isn't quite perfect. She would love to find the perfect forever home for every client that walks in the door, but sometimes it just doesn't work. That being said, Deb loves what she does and finds enjoyment in working for London Bay Homes and The Founders Club.
"The most enjoyable parts of my job are my co-workers, the privilege of selling for London Bay Homes, and helping clients understand exactly what they would like in a home and the moment it's all on paper and they are excited to see their home begin construction."
Deb has now been at The Founders Club for one and a half years and is a licensed sales agent, a member of the National Association of REALTORS®, and is working on her designation as a Certified Luxury Home Marketing Specialist. When asked what her favorite model home is at The Founders Club, she chose the Isabella Two-Story.
"The Coastal Contemporary Elevation is my favorite and I love everything about the home. When I walk in, I feel like I am at the beach or on vacation."
The Founders Club offers comfortable luxury villas, dramatic Fairway homes, or luxurious Estate Homes, all on expansive home sites with golf, lake, or preserve views. These beautiful luxury custom homes are built by London Bay Homes, a Sarasota home builder with more than 25 years of experience in the industry and a signature home building process that will guide you to a dream home that reflects your distinctive tastes and unique personalities. Model homes are available for viewing seven days a week. If you would like a tour of one of our Sarasota new homes for sale, Deb is more than happy to assist you by highlighting all of the wonderful luxury features in the home, as well as the design and construction build quality which makes London Bay Homes so unique and special.
"Our homes have a distinct personality and I am so proud to be able to offer clients who want to live in Sarasota the opportunity to own one of our beautiful homes. With London Bay, you don't just get one salesperson, who get to work with an entire team of the most awesome people you could ever have the pleasure of working with. The talent within the London Bay Homes organization is incredible."
We are lucky to have Deb Harris as part of the Sarasota sales team, as well as the many other wonderful team members at The Founders Club. Stay tuned for our next Meet the Sales Team blog to learn more about our wonderful Sales Executives.
You can also schedule your tour of our Move-In-Ready model homes or download our brochure to learn more about The Founders Club.