When you chose your Sarasota homebuilder and worked out the plans for your outdoor living area, you undoubtedly had visions of amazing days spent splashing in the pool and cooking up some delicious food in your outdoor kitchen. Well, it's grilling time and we have found some mouthwatering recipes to ensure you'll be deliciously satisfied while enjoying the best weather our Florida summer can offer. We like to pair these recipes with refreshing lemon, mint, and cucumber water, a cold glass of good ol' fashioned sweet tea, or a taste-full white wine sangria. There's a recipe here for everyone so take your pick and host a memorable summer BBQ in your luxury vacation home.
Chicken Caesar Pasta Salad
We found a fresh and filling Chicken Caesar Pasta Salad recipe on Spicy Southern Kitchen that is easy to make and will fill you up without weighing you down.
The Ingredients
1 cup mayonnaise
⅓ cup sour cream
1 large clove garlic, pressed
2 tablespoons lemon juice
2 anchovies, finely minced
1 teaspoon Worcestershire sauce
1 pound penne pasta, cooked until al dente and rinsed with cool water
6 large leaves Romaine lettuce, thinly sliced
1½ cups grape tomatoes
4 green onions. green parts sliced
½ cup finely shredded Parmesan cheese
½ teaspoon ground black pepper
2 grilled chicken breasts, diced
1½ cups croutons
The Steps
In a small bowl, stir together the mayonnaise through the Worcestershire sauce. Toss half of the dressing with the pasta and refrigerate for 30 minutes. Mix in remaining ingredients including the remaining dressing and serve.
Grilled Salmon with Avocado Salsa
We found this fresh and delicious recipe on The Cookie Rookie and it made our night. Seriously, the avocado salsa alone is to die for, but the seasonings for the salmon are equally mouth-watering.
The Ingredients
For the Salmon:
2 lbs salmon, cut into 4 pieces
1 tbs olive oil
1 tsp salt
1 tsp ground cumin
1 tsp paprika powder
1 tsp onion powder
½ tsp ancho chili powder
1 tsp black pepper
For the Avocado Salsa:
1 avocado, sliced
½ small red onion, sliced
Juice from 2 limes
1-2 tbs finely chopped cilantro (I'm not a cilantro fan so I skipped this ingredient and used a little bit of parsley instead)
Salt to taste
The Steps
Mix the salt, chili powder, cumin, paprika, onion and black pepper together. Rub the salmon fillets with olive oil and this seasoning mix. Refrigerate for at least 30 minutes.
Pre-heat the grill. Then, combine the avocado, onion, cilantro, lime juice, and salt in a bowl and mix well. Chill until ready to use. Grill the salmon to desired doneness and then top with avocado salsa.
Balsamic Glazed Steak Rolls
The meat lover in your household will love this recipe from Tablespoon. The prep takes a little time, but you are left with a veggie-filled piece of meaty goodness. We paired it with some sweet potatoes, but we're sure baked potatoes would be just as delicious.
The Ingredients
For the Steak:
8 thin slices sirloin or flank steak (length and width according to personal preference)
Extra virgin olive oil
Salt and freshly ground black pepper
Fresh rosemary, chopped
1 red bell pepper, sliced into thin strips
1 green bell pepper, sliced into thin strips
1 medium zucchini, sliced into thin strips
1 medium yellow onion, halved and then thinly sliced
A few white button or cremini mushrooms, cut into thin strips
For the Rosemary Balsamic Glaze:
1 teaspoon extra virgin olive oil
1 large clove garlic, minced
1/4 cup dark balsamic vinegar
2 tablespoons dry red wine
2 teaspoons brown sugar
2 sprigs fresh rosemary
1/4 cup beef flavored broth
The Steps
For the steak: Rub each side of the steak slices with a little extra virgin olive oil. Sprinkle with salt, freshly ground black pepper, and some chopped fresh rosemary. Heat one tablespoon of extra virgin olive oil in a skillet over medium-high heat and cook the vegetables until crisp-tender, seasoning with salt and pepper. Place a few of the vegetable strips vertically on one end of each steak cutlet so that once rolled up the end of the vegetables are sticking out of each end of the steak roll. Roll it up and secure it with a toothpick. Repeat for each steak roll.
For the rosemary balsamic glaze: Heat the olive oil in a small saucepan over medium-high heat. Add the garlic and cook for one minute, until fragrant. Add the balsamic vinegar, red wine, brown sugar and the rosemary sprigs and bring to a rapid boil. Reduce the heat and simmer uncovered for 5 minutes. Add the broth, return to a boil, reduce the heat to low and simmer for another 15 minutes. Discard the rosemary sprigs.
Prepare the grill and grill on each side for about 2 minutes or according to desired doneness. Do the same if cooking them in a skillet, frying over medium-high heat until done. Serve immediately drizzled with the rosemary balsamic glaze.
Lime Honey Glazed Chicken
Not much beats a nice, juicy chicken breast on the grill, but combining it with this lime-honey glaze is a great way to take it to another level. This recipe from Eating Well uses both the stove and the grill, so you can take full advantage of your outdoor kitchen.
The Ingredients
6 tablespoons honey
6 tablespoons reduced-sodium soy sauce
2 teaspoons freshly grated lime zest
6 tablespoons lime juice
1 teaspoon crushed red pepper
4 6-ounce bone-in chicken thighs, skin and excess fat removed
2 12-ounce bone-in chicken breasts, skin and excess fat removed, cut in half crosswise
The Steps
Mix honey, soy sauce, lime zest, lime juice, and crushed red pepper in a large bowl. Add chicken pieces and stir to coat. Cover and refrigerate for 2 hours, stirring occasionally.
About 20 minutes before you are ready to grill, preheat your grill to 400°F, but make sure one burner is turned off. Remove the chicken pieces from the marinade (reserve marinade) and place bone-side down (with the thick part of the meat facing up) on the unheated side of the grill rack. Close the lid and roast undisturbed for 25 minutes.
Meanwhile, place the marinade in a small saucepan over medium-high heat and boil until reduced by about half and thickened to a glaze (8 to 10 minutes). Rotate the chicken to other spots on the unheated portion of the grill to ensure even cooking and lightly brush with some of the glaze. Cover and continue roasting, basting once more about halfway through cooking, until an instant-read thermometer inserted into the center of the meat without touching bone registers 165°F (10 to 20 minutes more).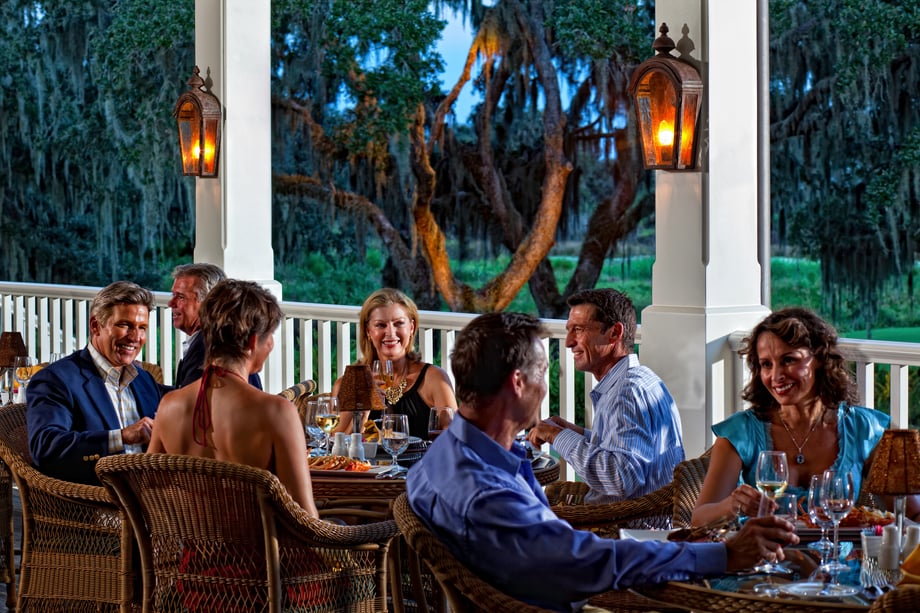 Of course, if you are not the cooking type, you can always grab a delicious lunch or dinner at The Founders Club's clubhouse. The Club's fine dining room offers an elegant setting for a luxurious dining experience, while the bar and grille and outdoor verandah overlooking an oak hammock provide a casual atmosphere for a delectable lunch. However you choose to dine, Chef Mark Traugutt always brings the freshest and finest food to the table with the goal of creating great, memorable dishes for his residents. Great friends, delicious food, a growing list of luxury amenities, and luxury Sarasota homes; it doesn't get much better than this.