For a short while, entertaining guests in your home seemed to be an outgoing trend as more and more family and friends opted to dine out instead of being welcomed into someone's home for a dinner or cocktail party. That has seemingly changed with a recent survey from global researchers, GfK, stating that, on average, a quarter of people entertain guests in their home either daily or weekly, with another third of people entertaining monthly. In fact, less than one in ten people say they never entertain in their home.
If you are one of the many people that enjoy hosting an elegant dinner party, inviting family and friends over for a barbecue, or rallying your loved ones for a game night or social gathering, then you need a home that offers the perfect setup to create a welcoming atmosphere.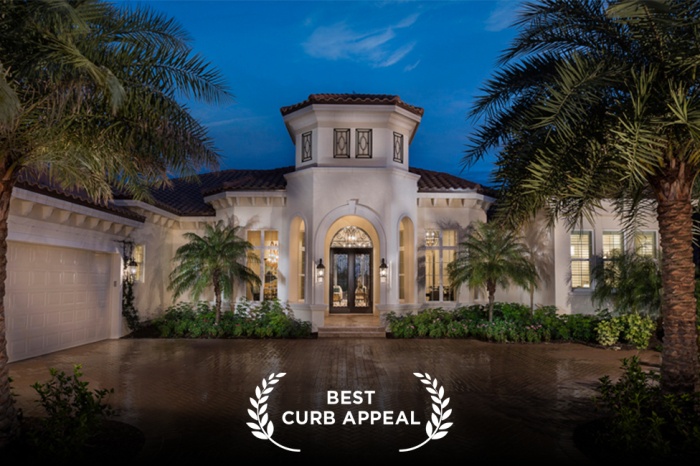 The Delfina by London Bay Homes was designed by the Sarasota home builder's award-winning, in-house team to speak to homeowners with a knack for entertaining. In its design, the luxury home in Sarasota included all of the elements needed to create the perfect home for hosting events and get-togethers: a welcoming entry, kitchen counter seating, walk-in pantry, open floor plan, formal dining room, main level bathroom, outdoor living, and seamless indoor-outdoor transition. In addition to these features, the Delfina also features four bedrooms and four-and-one-half bathrooms to round out the floor plan of the gorgeous estate home in our Sarasota luxury community.
When you host your next cocktail party, you'll appreciate that the Delfina's open floor plan begins with a beautiful formal entry, foyer, and gallery before arriving at the large family room residing directly next to the gorgeous kitchen and living room. Decorated by the award-winning designers of Romanza Interior Design, your future home in Sarasota FL features a bright white backdrop in the living room, kitchen, family room, and the adjoining game room that is punctuated by vibrant citrus colors for a fun and casual atmosphere. The family room is separated from the game room by a custom-built, 60-inch pop-up television to pair with the matching television that is wall-mounted in the game room just above the billiard table. The transitional design found in these finishes and furnishings is emphasized using clean-lined furniture with wood, stone, metal, and glass finishes, as well as a light, neutral palette used to bring out the splashes of color throughout the home. These color and texture combinations visually open the open space for a bright and airy feeling ideal for hosting a party where a large group of people are gathering in one area.
The kitchen, featuring a walk-in pantry and free-standing island with counter seating, blends in well with the space with low-sheen arctic white cabinetry featuring raised paneled doors, display glass shelves, and crown molding. Hints of golden jade are found in the granite countertops and mosaic glass backsplash to complement the accents of gold found in the dining room's twin chandeliers, the place settings atop the rectangular wood table, the latticework backs of the host chairs, and in the scroll overlays on the buffet's mirrored doors.
If your get-together takes you outdoors, you'll welcome the sunshine and cool breeze through zero-corner pocketing doors in the living room. These sliding doors, also found in the family room, lead out to a simple and elegant pool deck featuring a serene and captivating view of the custom pool, raised spa, waterfall feature, and glistening lake, as well as an outdoor living space and wrap-around verandah with comfortable seating in all of its gathering areas. Barbecues will be a breeze with a luxury outdoor kitchen complete with a grill, sink, and refrigerator.
The Delfina home in Sarasota offers 5,943 total square feet, including its outdoor areas and a three-car garage. Tour the Delfina and our many other luxury homes in Sarasota FL by speaking to one of our friendly sales executives.