You've made the decision to build a custom home that features all of the elements of your dream home. Now all you have to do is pick the perfect luxury Sarasota home builder that will bring your vision to life and make the experience as pleasant as possible. But how do you go about choosing the one company with which you'll be able to share the next 12-18 months and trust that they will deliver your luxury custom home on time and on budget?
Begin With a Luxury Homes Plan
Before you start calling luxury home builders and scheduling appointments, the first thing you should do is make a list of everything you would like to see in your new home. Do you have a home site or will you need to choose one? Will that home site be in a private luxury home community or do you see yourself in a high-end neighborhood? Do you want a modest single-family home or do you need a large estate home? How many bedrooms do you need or want? Are there any special features the home builder will need to take into consideration when designing your home? The answers to these questions and so much more will help you determine the type of home you seek and will make it easier to find a home builder that can meet those needs.
Put Together a List of Sarasota Home Builders
To find the luxury home builder that's right for you, you need to see which licensed, reputable, and trustworthy companies are out there. A great place to start is with your local Home Builders' Association, who will be able to provide a list of licensed home builders in the area. You should also go through the real estate section of your newspaper for popular builders and speak to local real estate agents, friends, and family for names of home builders they would recommend. This last suggestion is the most important one because knowing someone that has already gone through the construction process with a certain company will give you an honest, inside look into a typical experience with that home builder.
Narrow Down Your List
With your list in hand, start going through the names of the Sarasota home builders and determine whether they will be able to design and build your custom home. There are a lot of home builders in the Sarasota market, but not all of them are luxury custom homebuilders that are capable of building a dream home that meets your standards and falls within your preferred price range. If you're looking for a specific type of home, you'll be able to narrow the list further. For example, a home builder who focuses on villa homes may not be able to adequately design your one-of-a-kind estate home. The same applies for home builders that only build the floor plans as they are. If you want to make changes to a floor plan or have them design a unique floor plan fit for your needs, a production builder won't be able to handle the additional design work.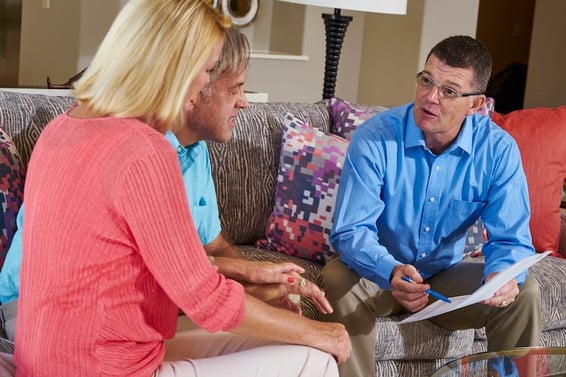 Researching Your Home Builders
Once you have narrowed down your list to a few favorites, you'll want to schedule an appointment with a Sales Executive from each company to learn more about their products and services. Most luxury custom home builders will have luxury homes available for viewing, which will allow you to see the quality of the work they do. If there is a Parade of Homes scheduled, you may even be able to study model homes from each of your favorite home builders in one day, without scheduling an appointment. We would advise that you take specific notes on the homes you like so you can follow up with that particular home builder after the parade is over.
With each home you tour, you want to pay special attention to the quality of the build. You should inspect the cabinetry, flooring, trim work, paint, and any detailed work that may be overlooked during an initial inspection. Model homes are usually exquisitely furnished, so try to look past the furnishings to see the home itself. If there is a Sales Executive touring the home with you, ask questions about the materials and processes used throughout the build and inquire about whether or not previously built homes have maintained their value. You can then follow-up with an appointment to dig deeper into their work and their individual home building processes. During your appointment, make sure you ask the Sales Executive to see any floor plans they have available that fit your needs and ask about the home builder's design and customization capabilities.
Before the end of your meeting, ask if they can provide a list of previous custom home clients and then actually reach out to them to inquire about their experience. You'll be able to learn a lot from the people who have already worked with the home builder by asking a few simple questions:
Did the builder communicate clearly and in a timely fashion?

Was the project on time and on budget?

Was the construction site clean and organized?

How did the builder respond when problems arose (if applicable)?

Are you happy with the final project?

Would you recommend this builder to your friends and family? Why or why not?
Find the Perfect Sarasota Home Builder
Once you've gone through the initial process of interviewing potential home builders and getting answers to all of your questions, choosing the home builder that is right for your custom build will be easy. Chances are, you've already felt a connection with one specific home builder and feel confident they will be able to design and build your perfect dream home.
At The Founders Club, we work with five luxury home builders in Sarasota, FL, so you can design and build a home that speaks to your distinct tastes and unique personalities. In addition to our luxury partnership with London Bay Homes, The Founders Club has also welcomed Roy Dupois' Anchor Builders, Lee Wetherington Homes, Nelson Homes, and Nutter Custom Construction to our preferred builder list. Our Sarasota luxury community currently has luxury model homes, fully-customizable floor plans, and one-of-a-kind home opportunities to ensure you end up with the home of your dreams.
Schedule your appointment to sit with one of our friendly and knowledgeable Sales Executives to learn more about the experienced luxury home builders in Sarasota.