The Founders Club is located just moments away from the hustle and bustle of city life, bringing you close to the arts, culture, entertainment, and fine dining offerings in Sarasota FL, as well as the area's award-winning beaches nestled against the Gulf of Mexico. It offers a place where you can enjoy the peace and quiet of a boutique-style setting wrapped in a lush, natural environment away from it all, while still allowing you to experience everything the city has to offer any time of day. What it also offers is a Sarasota lifestyle filled with luxury amenities and a professional staff equipped to enhance your way of life.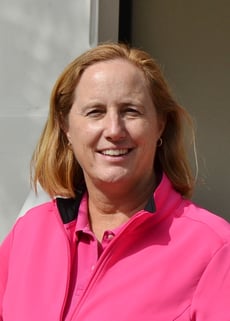 One of the many amenities designed to amplify your experience at The Founders Club is our signature Robert Trent Jones, Jr. course, where residents and members enjoy year-round golf with no tee times required. As with many of our luxury amenities, the golf program is staffed with professionals who will allow you to take your game to the next level, including Head Golf Professional, Anne McClure, and First Assistant, Joel Rasho. Together, along with the available golf technology at The Founders Club, these golf professionals help residents perfect their game and enjoy many rounds on our dramatic and rewarding golf course, as well as many other golf courses as part of The Founders Golf Club's reciprocal program.
We recently sat down with Head Golf Professional, Anne McClure, to discuss her experience and the training equipment she and her staff utilize to help The Founders Golf Club members achieve their training goals.
Q. Can you tell us a little about your golf history and experience?
A. "I played Division One college golf at the University of Hawaii, have been a PGA Member since 1995, and have worked at fine golf facilities in Massachusetts, Maine, and Florida."
Q. What are your three greatest career achievements?
A. "Becoming a PGA member, being the first Woman PGA Head Golf Professional in the state of Maine, and becoming Head Golf Professional at The Founders Club (the greatest achievement of all)."
Q. Who are your golf mentors and what characteristics of theirs do you try to emulate?
A. "I learned so much from the PGA professionals I worked for as an apprentice. Tom McGuirk, such a great professional, so organized. My husband Chris McClure, so happy, always smiling, great with people, terrific teacher. Also, many PGA professionals that I have taught with in clinics, etc. I learn so much from watching others teach and interact with members."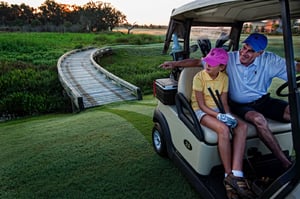 Q. If you could acquire one new skill or knowledge, what would it be?
A. "I always want to putt better. A player may hit the ball well during a round but good putting will make the round extraordinary! Or a player may have a poor ball striking day but save their score with good putting!"
Q. What are some of the most successful golf programs at TFC for adults? For children?
A. "We have terrific men's and women's games each week. Players of all levels participate. We also have a growing 9 hole women's group that plays once a week. I teach a half hour clinic for them before they go out to play. It's a lot of fun! We also conduct a one hour free clinic for kids every Saturday. This has developed into some great multi day junior camps over the summer."
Q. How do you keep up with industry and technology changes?
A. "I attend the PGA Show in Orlando each year. There, I see the up and coming fashion trends as well as new products for the golf course, club house and instruction. Also at the Show, I attend the Teaching and Coaching Summit. Always new and innovative ideas about teaching and terrific interaction with other PGA professionals."
Q. What golf technology is available for members to utilize at TFC?
A. "The members at The Founders Club have access to a club-owned FlightScope. I am able to teach and club fit using this awesome technology. The club also has an air conditioned/heated indoor teaching and fitting center."
Q. What types of current teaching technology do you use in your instructional programs?
A. "I always use video in my lessons because so many people learn visually. I use the V1 system so I am able to send videos and notes from the lesson via email to my students. I have a swing plane trainer and many putting devices."
Q. What's your favorite piece of training equipment and why?
A. "Using video along with the FlightScope is really the best! The smash bag for proper ball contact and for putting, the putting mirror is terrific."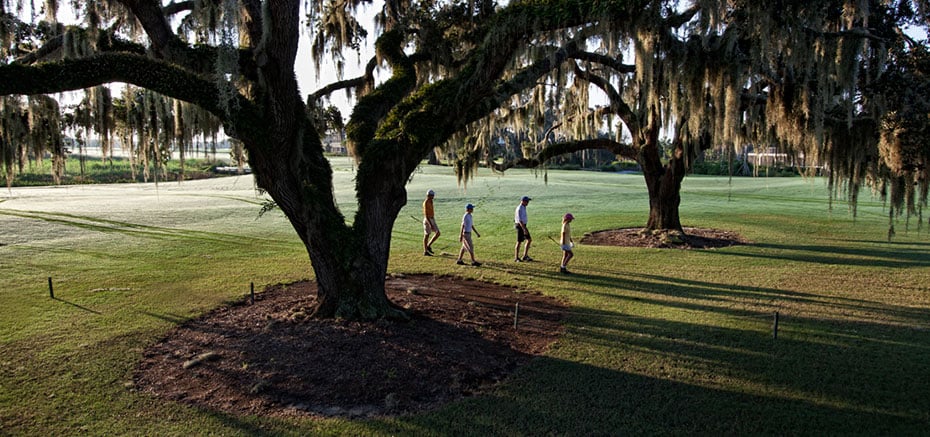 Golf memberships at The Founders Club are limited to just 275, allowing residents and members to enjoy year-round golf with no tee times required, as well as the area's only traditional caddie program. Our Robert Trent Jones, Jr. golf course recently underwent renovations, updating from the traditional Bermuda grass to sprigs of Florida-friendly Celebration, a deep blue-green Bermuda species repeatedly named the top turf for wear tolerance and recovery and drought resistance. The 32-tee driving range features additional areas for members and guests to use on the practice end and the teaching end, further enhancing The Founders Club's practice and training facilities. These facilities consist of two putting greens, a short game area, and the state-of-the-art TrackMan radar technology through the Florida Golf Performance Center, as well as the Flight Scope system previously mentioned by Anne McClure.
Members also have access to the 24,000-square-foot Golf Hall overlooking an oak hammock and the 18th hole, where you can enjoy a refreshing beverage and a delicious meal after a long golf game (we recommend the burger!), and perhaps make your way over to the fully stocked golf pro shop to pick up some new golf shoes or a new putter.
Contact us to learn more about the luxury amenities offered at The Founders Club, including the golf membership opportunities that will deliver a superior golf experience to all members of our private Sarasota golf and country club community.