Searching for a home that meets your criteria in today's market may be a tiresome process when you're looking for the best, highest-quality homes. That is why The Founders Club teams up with Sarasota home builder, London Bay Homes, to bring you the very best in new home design and construction for our boutique-style community in Sarasota FL.
The Founders Club in Sarasota FL is an award-winning combination of a community voted Best Overall Community by the Manatee-Sarasota Building Industry Association and a city ranked #2 on the best places to retire list. America's Best Builder, London Bay Homes, joins the award-winning team with luxury Sarasota real estate designed with you in mind. Their homes range from 2,500 to more than 6,000 square feet of living space and home and home site packages are priced from the $900,000s to more than $5 million. View all of our home styles to choose the one that best suits your Sarasota lifestyle.
Reserve Collection Luxury Homes in Sarasota
As a custom home builder, London Bay Homes offers a selection of single-family detached villa homes and Reserve Collection homes ranging from 2,500 to more than 6,000 square feet of living space. Each home design is fully-customizable and provides many great design options and abundant flexibility so you can have the chance to express your own personal style in a beautiful Sarasota luxury community.
View model homes from our Reserve Collection.
One-of-a-Kind New Homes Sarasota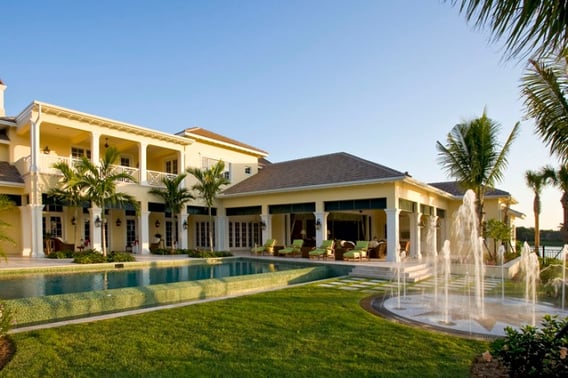 If you're looking for something a little more grand, London Bay Homes' team of architectural, design, and construction experts can design and build a one-of-a-kind estate home that embodies the vision you've always had for your dream home. With a One-of-a-Kind home, the sky is the limit with architectural and design options, but you can start by looking at some of our luxurious estate homes for ideas on where to begin. These homes range from 5,398 square feet to more than 8,000 square feet and offer an ambience unrivaled by other homes. Being that they are greater in size, these homes also offer even more ways to customize your space and can be transformed into a true one-of-a-kind home. Estate home sites range from a half acre to one acre and share the same gorgeous views as other Founders Club home sites, meaning you can choose between a grand lake view, a nature preserve view for added privacy, or an expansive golf course view.
View One-of-a-Kind homes at The Founders Club in Sarasota FL.
Aside from luxury Sarasota real estate, The Founders Club offers more than 700 acres of natural, lush landscape punctuated by curved streets wrapped around tree lined vistas. Step into the Sarasota luxury community and you are instantly captivated by the serene, boutique style setting and a comforting sense that you have arrived home. But more than just a tranquil setting, the Founders Club is conveniently located just minutes from I-75, a vibrant downtown area, and world-class beaches; rich with a growing list of amenities, such as the the dramatic and rewarding Robert Trent Jones, Jr. golf course, a 24,000-square-foot Golf Hall with fine and casual dining, and a full calendar of social, sport and wellness activities; and enlivened by camaraderie among its members and residents who gather like family to enjoy mutual interests, engage in stimulating conversations, or kick back and just have some good 'ol fashioned fun.
With The Founders Club, you get the best of both worlds with a boutique-style community located close enough to enjoy the benefits of city living, but far enough away to be free of the hustle and bustle associated with them. Everything you've been looking for in a Sarasota luxury community, you've found it.