When tasked to create a floor plan that speaks to homeowners with a knack for entertaining, the architectural and design teams of London Bay Homes constructed an open floor plan fit for the very best of get-togethers. The result was our single-family estate model home: the Delfina.
The Delfina is a four bedroom, four and one-half bathroom home ideally equipped with a large family room residing directly next to a gorgeous kitchen and living room. Decorated by the award-winning designers of Romanza Interior Design, this home in Sarasota features a bright white backdrop in the living room, kitchen, family room, and the adjoining game room that is punctuated by vibrant citrus colors for a fun and casual atmosphere. The transitional design is further emphasized using clean-lined furniture with wood, stone, metal, and glass finishes, as well as a light, neutral palette used to bring out the splashes of color throughout the home. These color and texture combinations visually open the room for a bright and airy feeling.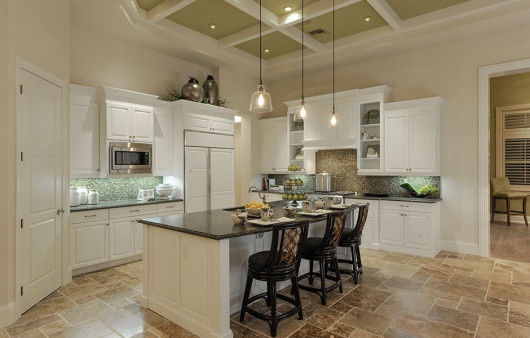 The kitchen, featuring a walk-in pantry and free-standing island, blends in well with the space with low-sheen arctic white cabinetry featuring raised paneled doors, display glass shelves, and crown molding. Hints of golden jade are found in the granite countertops and mosaic glass backsplash to complement the accents of gold found in the dining room's twin chandeliers, place settings atop the rectangular wood table, the latticework backs of the host chairs, and in the scroll overlays on the buffet's mirrored doors.
On days when Sarasota weather welcomes us with warm sunshine eased by cool breezes, the Delfina's inviting floor plan opens up with the use of zero-corner pocketing doors in the living room. These sliding doors, also found in the family room, lead out to a simple and elegant pool deck featuring a serene and captivating view of the pool, spa, and lake.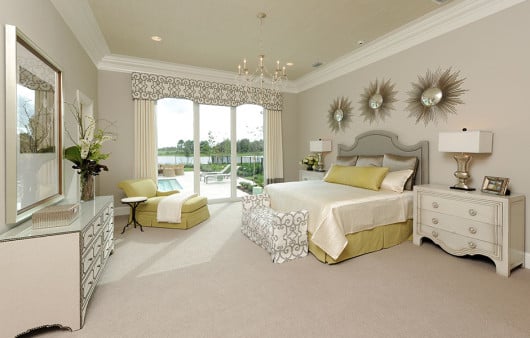 After a full day of entertaining guests, homeowners can escape to the tranquil setting of their master bedroom, where a palette of muted citrus and gray accents lays against the soft white found in the linen lamp shades, nightstands, dresser, and bedding. The subdued nature of the room is livened with pewter accents and scrollwork embellishing the window treatments and the upholstery of a bench at the foot of the bed. Sliding glass doors provide a private exit to the pool deck and a resort-inspired view of pool, spa and lake. A single door leads out to the covered verandah.
The Delfina offers 5,943 total square feet, including its outdoor areas and a three-car garage. It is priced at $2,128,900, fully-furnished.