Nothing is more spectacular than enjoying a fresh, grilled meal outside amongst the glorious sunsets and views of Sarasota, Florida. And residents of the Founders Club's enjoy outdoor living areas that allow them to indulge in elegant dining al fresco during any season. The million dollar homes at The Founders Club offer extensive amenities that allow for effortless outdoor entertaining — so grab a glass of Chardonnay and fire up the grill. In this blog post, we highlight a few of our favorite ways in which enjoying a perfect open-air evening is effortless at The Founders Club.
Luxury Outdoor Living Spaces at The Founders Club
Our Estate Homes are designed to provide you with everything you need to get the most out of your Sarasota, Florida lifestyle. These homes feature the widest range of customization and designer options, including spacious outdoor living areas, perfect for an evening under the stars.
The Cristina
With 12,689 total square feet, the Cristina has one of the vastest outdoor living areas at the Founders Club. Included is a pool and spacious deck, surrounded by covered living areas and lanais. A stunning double-sided fireplace serves as a partition between the dining area and one of two outdoor seating areas. The pool itself features a gorgeous trellis and overflowing spa, adorned with hand painted tiles. Whether hosting a family gathering or enjoying a romantic dinner for two, this design can accommodate any occasion.
Warmth and comfort characterize the outdoor living space of the Cristina. The home's outdoor bar includes a built-in refrigerator, grill, and sink, providing the convenience of an indoor kitchen environment. Wicker chairs with brown cushions, stone fireplaces and spacious marble pillars create an ambience that is both welcoming and sophisticated. Mosaic tile line the pool and palm trees sway peacefully at the poolside. Warm lighting is abundant allowing residents to enjoy their outdoor living space into the evening.
The Fairley
The Fairley includes everything necessary for premier outdoor living, featuring two distinctive living areas. A large deck that encompasses a fountain and a personal spa surrounds the pool. The outdoor kitchen opens up to the deck and pool and is complete with a lanai for dining and relaxing in luxury. Vaulted painted green wood ceilings facilitate the transition from inside to outside.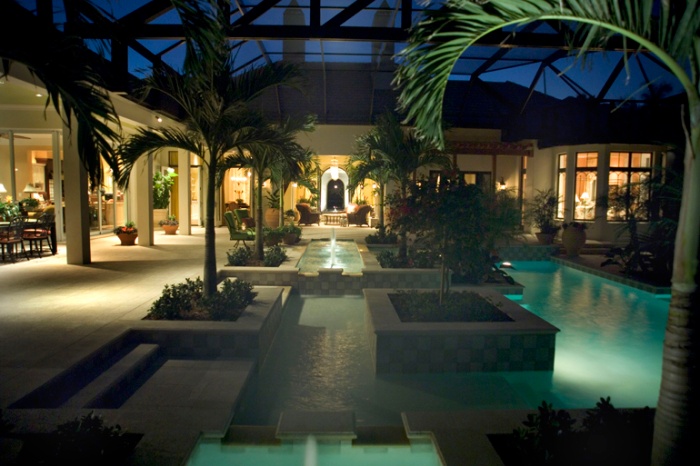 Inspired by the British West Indies, the outdoor accommodations resemble that of an island getaway. Palm trees surround the pools, while tile and fountains add charm. Lounge chairs are included as are large, comfortable wicker chairs that are perfect for sipping a cocktail and enjoying a sunset with family and friends.
Easy Ways to Cook Up the Perfect Luxury Evening
The Founders Club provides every accommodation to create the perfect Sarasota evening — all that is left to complete an ideal evening is a delicious grilled meal. Enjoy elegant evenings al fresco with these recipes from The Founders Club team:
Terri's Pork Tenderloin
From Terri Speach-London Bay Homes Realtor Liaison
Ingredients:
¼ cup soy sauce
¼ cup bourbon
2 Tbsp. brown sugar
3 lb. pork tenderloin
For the Sauce:
1/3 cup sour cream
1/3 cup mayonnaise
1 Tbsp. dry mustard
2-3 green onions chopped
Directions:
Mix the soy sauce, bourbon and brown sugar, and marinade the pork tenderloin for several hours, turning occasionally. In the meantime, mix the sauce ingredients until smooth. Grill the pork tenderloin, basting with marinade, to your desired doneness. Pour the sauce on top of the tenderloin to taste. Serve with a green salad with vinaigrette and a white Bordeaux.
The Perfect Steak
From Roland Nairnsey Director of Business Development
Ingredients:
4 1 1/4 -to-1 1/2-inch-thick boneless rib-eye or New York strip steaks (about 12 ounces each) or filets mignons (8 to 10 ounces each), trimmed
2 tablespoons canola or extra-virgin olive oil
Kosher salt and freshly ground pepper
Directions:
About 20 minutes before grilling, remove the steaks from the refrigerator and let sit, covered, at room temperature.
Heat your grill to high. Brush the steaks on both sides with oil and season liberally with salt and pepper. Place the steaks on the grill and cook until golden brown and slightly charred, 4 to 5 minutes. Turn the steaks over and continue to grill 3 to 5 minutes for medium-rare (an internal temperature of 135 degrees F), 5 to 7 minutes for medium (140 degrees F) or 8 to 10 minutes for medium-well (150 degrees F).
Transfer the steaks to a cutting board or platter, tent loosely with foil and let rest 5 minutes before slicing.
Discover more entertainment-ready million dollar homes at The Founders Club in Sarasota by downloading our interactive brochure.