When you seek out a Sarasota luxury community that best fits your lifestyle, you want to be sure the home builder you choose will fulfill your custom home dream with expert design and build procedures. This is one of the reasons The Founders Club community is proud to partner with Sarasota home builder, London Bay Homes, to provide residents with beautiful homes that live up to their expectations of luxury living.
Dr. Robert Kiltz and Teah Hall are one of the many clients that worked with London Bay Homes to create the home of their dreams, after spending tireless hours looking for an existing home that suited their lifestyle and featured all of the custom home details they were seeking and finding that it just did not exist. Yet.
Luxury home builder, London Bay Homes, builds exquisite custom homes in Southwest Florida and has done so for nearly 30 years utilizing their signature Private Label Living process. This process allows them to focus on the quality, attention to detail, and superior customer service behind each and every home built through Choice, Personalization, Service, and Trust. It embodies their commitment to building luxury custom homes that reflect our clients' distinct tastes and personalities, and it's one of the many reasons Kiltz and Hall decided to embark on their homebuilding journey with them.
"To me, it's important, the brand then the product. So London Bay is, to me, the brand, and they build an awesome product," said Kiltz. He then added, "Porsche, Ferrari, you name it; it's the list of the brands and you know they stand by their product."
Kiltz and Hall actually chose one of The Founders Club community's model homes under construction during their tour of our community. Construction was still in the early stages and the couple began customizing the project to suit their wants and needs. Hall enjoyed the fact that the home was already underway, but they were still able to make changes to the design and really customize it to what they wanted it to be. The couple also appreciated the team in place and mentioned that "they worked really hard to make us happy, whatever we wanted."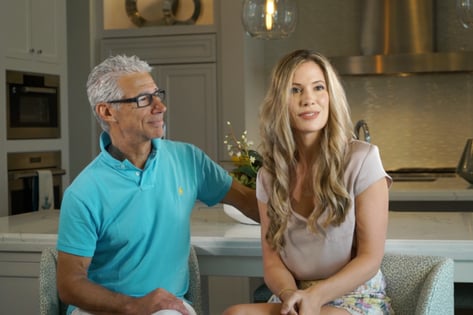 Part of London Bay's signature Private Label Living process includes working with a team of experts, from the luxury home builder's in-house architects to the selection studio and the award-winning interior designers at Romanza Interior Design, to design and choose all of the elements of your new home. Once construction commences, project managers manage every part of the construction process and keep you informed every step of the way. Even though the goal is to keep you well-informed, answering your questions before you even ask them, you can always feel free to ask about anything not addressed knowing you will get a timely and informed response. When they're building a home, we are all on your team, ready to address any concerns or questions you may have.
Dr. Robert Kiltz experienced this for himself and said, "Even in some of the times that you're doing construction, you're building, you get a little upset and it's energy that's natural, not one time did they argue. They listened and they helped create a solution."
Once the home is complete, London Bay Homes continues providing superior service to ensure your home is the perfect reflection of you. Before you move into your new home, a customer relations team will perform a thorough walk-through with you to fully explain every aspect of the home. They will also set up regular meetings throughout the first year of ownership to ensure the highest level of satisfaction.
"Not only we moved in and we're done, no, it's continuing to help us manage and maintain, and we have someone to call 24/7. Really love that," said Kiltz.
"Impeccable service, I would say. All about service and how they can please the client, and that's really important. You know, they worked really hard to make us happy, whatever we wanted," added Hall.
Throughout London Bay Homes' Private Label Living process, our team members adhere to the core values that shape the relationships with our clients and the trust that they have in us is evident in the number of clients that refer us to their friends and family.
"We will not only recommend them, but I already have eyes on another London Bay lot and project because they've done such a great job on this," admitted Kiltz.
Contact us to find your ideal oversized home site in our Sarasota luxury community and experience the thoughtfully designed Private Label Living process from our Sarasota home builder. It's the perfect partnership for luxury living in Florida.