Enlarged Laurel at Private Residence
Throughout London Bay Homes' 20 years of service, we've had the pleasure of meeting a number of families with clear ideas as to what details should be incorporated in their home design. From the placement of a 16-ft tall pipe organ in the center of a great room to waterfalls that flow to the tune of Disney classics, our custom homes have illustrated the passions of their owners through our customer-centric, team-oriented approach to homebuilding.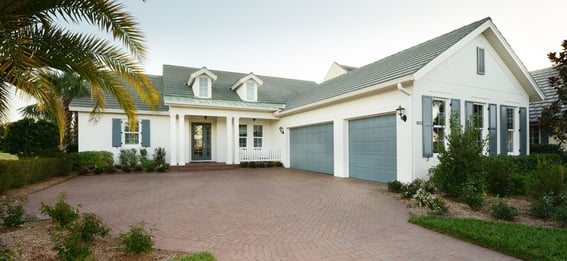 Laurel Elevation
At The Founders Club, one prime example of the amount of customization that can go into a residence is a home design that began with a Laurel Golf Cottage floor plan. The floor plan for the Laurel consists of 2,505 sq. ft. with three bedrooms, three baths, and a den. Once the clients and the architectural team were finished with it, the floor plan had been flipped and enlarged to 5,710 sq ft with a second story addition, five bedrooms, a game room, an enlarged kitchen, and a grand living room. Two different staircases were added, one for the interior and one located at the exterior of the home so the family and their guests could lounge by the pool and then head straight upstairs to play pool in the game room.
The outdoor living area was also expanded upon, leaving a stunning pool area, a large veranda on the second floor, and a beautiful courtyard set off to the side of the garage.
The possibilities are endless when it comes to designing a home that is as unique as the people living in it and London Bay Homes is equipped with team members more than capable of taking on any challenge.
Set an appointment to customize the house of your dreams.
For more information on the Laurel, click here.