True to the definition, trends in home décor constantly change, requiring homeowners to keep up pace if they want to stay in style. What is always a constant in home design for Sarasota, Florida is the need to blend indoor and outdoor spaces to fully take advantage of the beautiful Southwest Florida weather we experience year round. While making your house one with the great outdoors sounds like an intimidating prospect, here are some steps you can take to pull it off seamlessly.
Creating Unobtrusive Views into the Real World
The first step blending is revealing your outdoor setting by removing any obtrusive objects that could be getting in the way. Any large doors, pieces of art work, or covered windows that are cluttering up the space in front of the outdoor living are or the garden should be either relocated, removed, or cleared.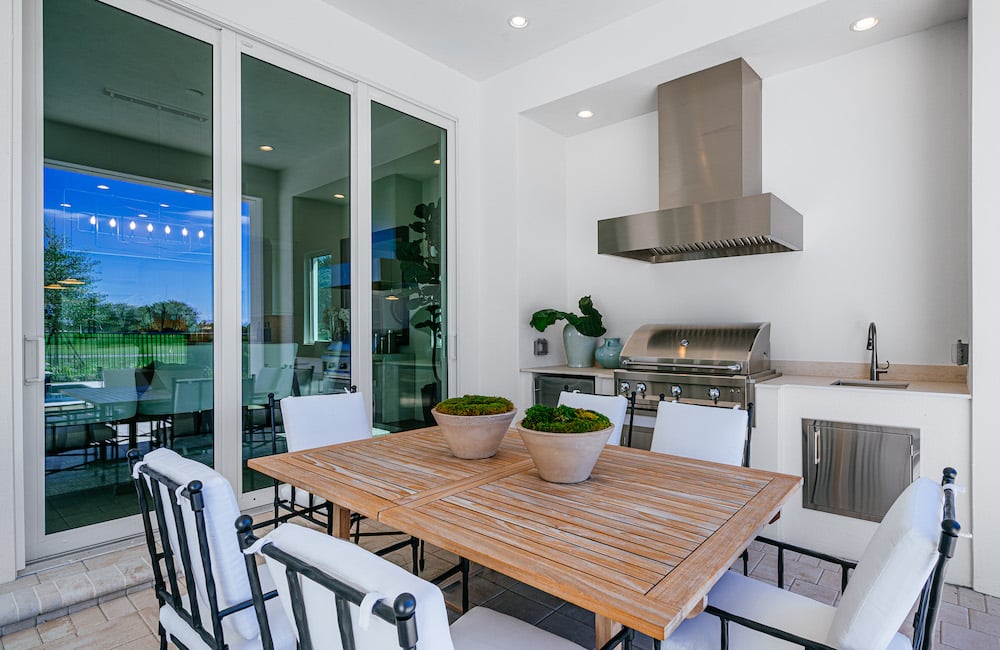 Ideally, you should have wall-to-wall sliding glass doors, and even pocketing sliding glass doors to increase your view from the inside to the outside. Large transom windows with low-e glass (emissivity) glass to reduce heat transfer and optimize A/C efficiency should also be used. When the weather is nice, you can leave the glass doors and windows open to invite tranquility of nature inside of your home.
If you share the pavement with a neighbor (or plenty of neighbors), you would ideally want to go with window dressings that maintain your privacy while striking a healthy balance between letting the great outdoors in. A great option to achieve this is to purchase semi-translucent roller blinds to restrict views from one side of the glass wall.
---
Choosing the Right Flooring Installation
A good solution to blend outdoor views with the interior décor is to install flooring that extends from inside your home to the outside of your yard. The same theme should be used for the flooring throughout to make the transition as seamless as possible. You can make this more effective by choosing doors that open both ways.
Again, the general idea is to make sure that both the indoor and outdoor have the same matching themes throughout to tie in well with your overall design.
---
Choosing Home Décor Items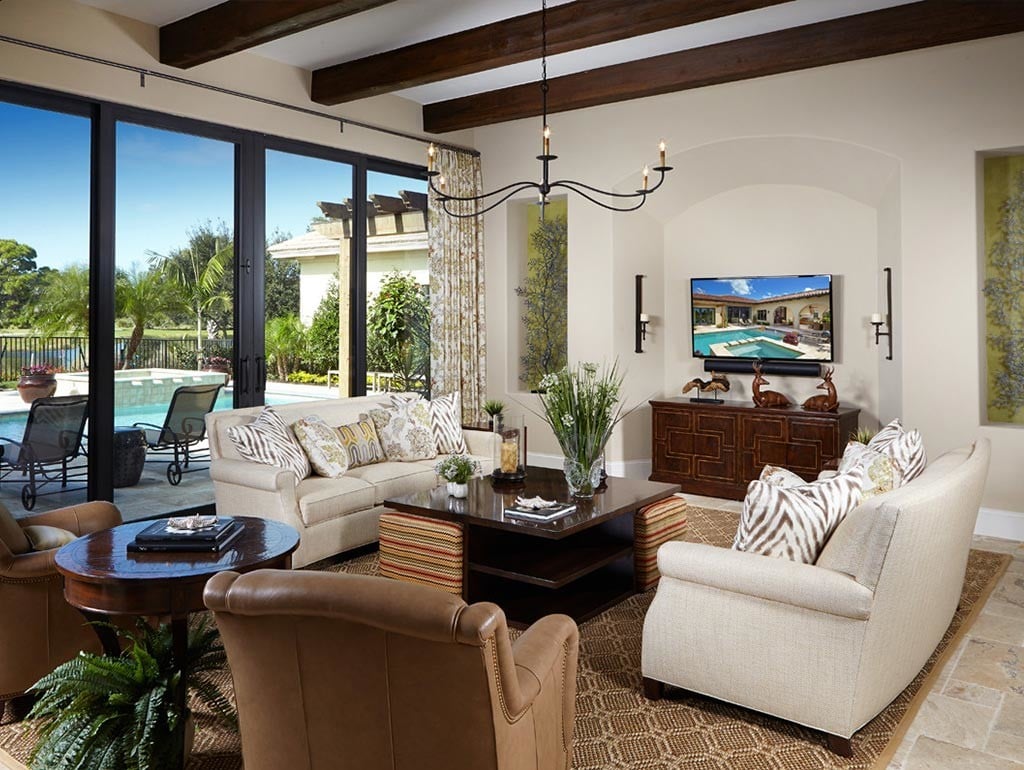 Because you want a theme that blends well with both outdoor and indoor settings, you will want to choose furniture and similar accessories that complement each other. A good choice is to use garden furniture to blur the fine line between outdoor and indoor spaces. Your outdoor living areas should be equipped with comfortable furniture that is weather resistant, but also makes you and your guests feel as though they are lounging in a living room. Adding accessories, like a beautiful centerpiece, can also make you and your guests feel at home in your outdoor living space.
When the outdoor furniture and decor blends well with the indoor furniture and decor, the transition from indoor to outdoor will be seamless.
---
Using the Right Light Fixtures
Using the right combination of outdoor lighting fixtures is key to linking the indoor and outdoor spaces, especially when it's nighttime. Go for low-energy lighting solutions and strategically install them throughout the outdoor space. Areas which are not in plain view of your indoor spaces should not be retrofitted with light fixtures.
Low energy options are essential when it comes to creating a fully functional outdoor space. There is no dearth of affordable lamps, chandeliers, and stylish LED flood lights that share similar themes with your home's interior design settings.
---
Using Natural Colors
To keep the design as flexible as possible, you should bring some natural elements within your home, such as adding plants of flowers. Houseplants not only add provide clean, fresh air, but they are also touted by psychologists as a great means of elevating your mood and increasing productivity. Choose natural color palette options, such as blues and greens, along with natural textures to complete the look.
---
At The Founders Club, we understand the importance of blending the indoor and outdoors spaces of the home to enjoy the beautiful Florida weather. Our luxury custom home builders feature fully-customizable floor plans and custom home plans that highlight outdoor spaces and allow for a seamless blend of indoor and outdoor spaces. View our luxury model homes to see the beauty that can be found in the homes of our boutique-style community in Sarasota FL.