In a time when technology is providing a whole new meaning to the term multitasking (Ever take a phone call while checking your email and updating your Facebook account?), efficiency has taken top billing in many factors of our everyday life, but this phenomenon didn't begin with smartphones.
Open floor plans have been a home design trend for years and continue to top the charts due to their practicality and flexibility. Families love them because they promote interaction, eliminating the walls that would typically separate family members and restrict communication. Other homeowners enjoy the ability to rearrange furniture and add seating to entertain their guests in style and comfort. Open floor plans also provide homeowners and guests with the ability to enjoy natural light and refreshing breezes as they flow throughout the floor plan with ease.
No matter the reason, open floor plans provide us with the gift of ease, comfort, and practicality. If you're looking for a home that provides these benefits, here are a few of our custom luxury homes that offer all of that and more.
Girona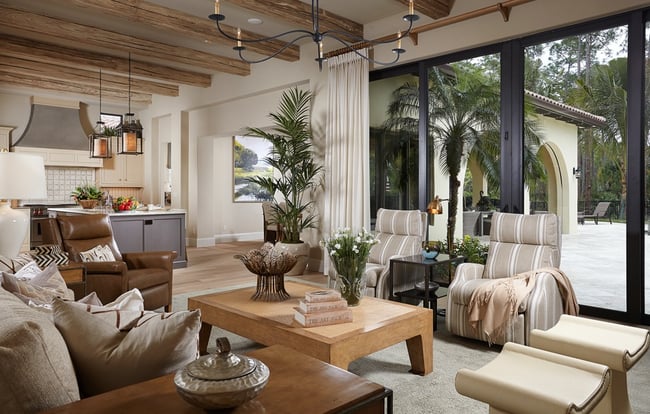 The Girona is one of our most popular villa floor plans, ranging from 3,518 to 3,857 A/C square feet and 4,804 to 5,812 total square feet. The key to the Girona's design is the spacious great room nestled between the dining area and kitchen. This direct access offers an open space with a view: The great room has wall to wall sliding glass doors that open up to the outdoor living area for a clear view of The Founders Club's beautiful natural surroundings.
Delfina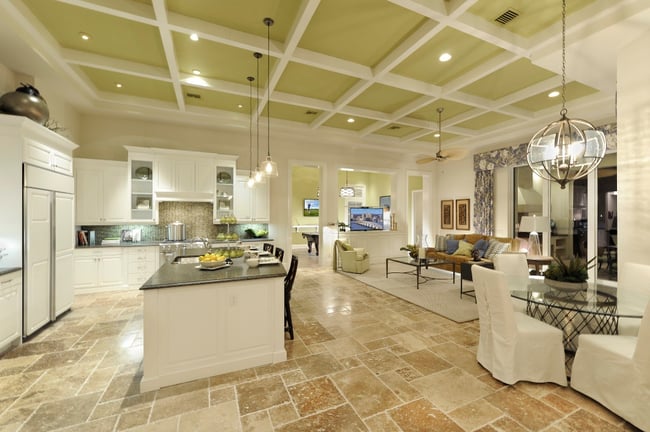 The Delfina is a four bedroom plus den, four and one half bathroom single family home that offers the perfect space for entertaining. It comes ideally equipped with a large family room that resides directly next to a gorgeous kitchen and living room, all of which open up to the outdoor living area or verandah. Food and relaxation come together for some fun in the optional, adjoining game room.
Our Delfina model home in The Founders Club takes full advantage of this setup with two plasma TVs set amidst the Delfina's expansive living area. The first plasma TV is located in the game room, while the second is a pop-up plasma TV situated between the game room and the family room.
Claiborne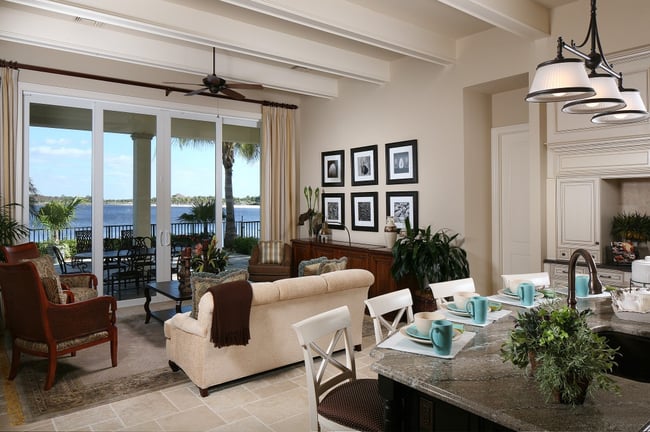 The Claiborne is designed to accommodate from 3 to 4 bedrooms, and 3 and one half to 4 and one half baths with overall dimensions ranging in size from 4,457 to 5,354 A/C square feet and 5,653 to 7,118 total square feet. This large Fairway home combines a great room, kitchen, and family room to create an open, easy living layout for families and guests alike. As with our other Founders Club homes, the Claiborne's great room and family room open up to allow for full enjoyment of our Southwest Florida weather.
Find the open floor plan that's right for you by taking a look at Our Homes or scheduling your private tour of The Founders Club's model homes.