On Thursday, January 18, 2018, The Founders Club is hosting Rally for the Cure, a community program designed to raise funds and bring awareness to breast cancer research and local breast cancer community programs. All of the funds collected for this event will benefit the local chapter of the Susan G. Komen Foundation and we are currently still accepting sign-ups and sponsorships.
The Susan G. Komen Foundation is a grassroots program using golf, tennis, and other social programs to raise the funds needed to further cancer research and help breast cancer patients throughout their treatment. More than $80 million have been collected in these efforts and so much more is needed to ensure breast cancer patients get the care they need. It is for this reason The Founders Club is hosting a Rally for the Cure on the Sarasota golf community's signature Robert Trent Jones, Jr. course.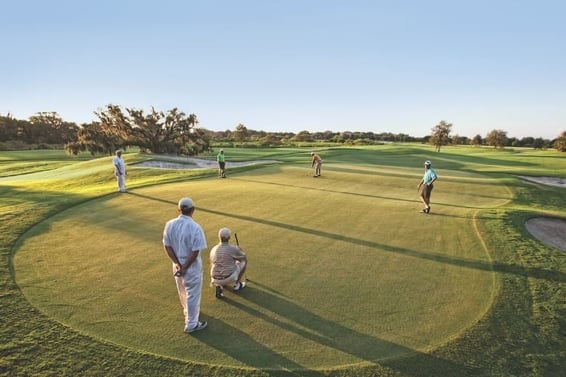 On Thursday, participants will begin their day on our Florida-friendly Celebration grass for 18 holes of dramatic and rewarding golf while soaking up the sunshine and feeling the chill of Florida's tame winter breezes. The Shotgun Ladies will begin at 9am and the Shotgun Men will begin at 12:30 and each participant provides a $50 donation to take part in the event. A delicious lunch is included from The Founders Club's highly trained staff, and if you're not much of a golfer, you can still take part in the private luncheon with a $50 donation plus lunch. You can also still contact Beth Hirsch if you would like to sponsor a t-shirt for $100 in honor of someone or in memory of someone. You do not have to be part of the golf program or luncheon to sponsor this event.
The Founders Club golf program at the Sarasota golf community allows its members to take advantage of year-round golf, as well as Sarasota's only traditional caddie program, with a membership limited to just 275 to ensure no tee times are required for its members. Recent updates to the Robert Trent Jones, Jr. golf course allows members to spend their days on sprigs of Florida-friendly Celebration, a deep blue-green Bermuda species repeatedly named the top turf for wear tolerance and recovery and drought resistance. The luxury home community's driving range was also recently expanded to be made wider and deeper, and include 10 new tees at the now 32-tee range. The Founders Club's practice and training facilities consist of two putting greens, a short game area, and state-of-the-art TrackMan radar technology through the Florida Golf Performance Center, as well as a Flight Scope system.
The Rally for the Cure luncheon will be held in the 24,000-square-foot Golf Hall which overlooks an oak hammock and the 18th hole. The Golf Hall features a main dining room, bar and grille, outdoor verandah, and private dining room for casual and fine dining. The facility also has a professionally staffed and fully stocked golf pro shop, state-of-the-art fitness center, and men's and women's locker rooms and lounges.
The Founders Club is thrilled to stand behind such a worthy cause and encourages its residents, guests, and neighbors to take part in or sponsor the Rally for the Cure to benefit the Susan G. Komen Foundation. Contact us to learn more about this event or discover how you can become a member of The Founders Golf Club.
UPDATE 1/18/18: Due to the cold weather, the golf portion of The Founders Club's Rally for the Cure event has been postponed until next Thursday January 25th. The luncheon will still be held today at 1:30 pm. Thank you!