Beautiful Floridian sunsets, glistening lake views and expansive properties are what make The Founders Club a personal paradise. However, more than these collections of luxury Sarasota, Florida homes, it is the community of residents that makes life at The Founders Club pure bliss.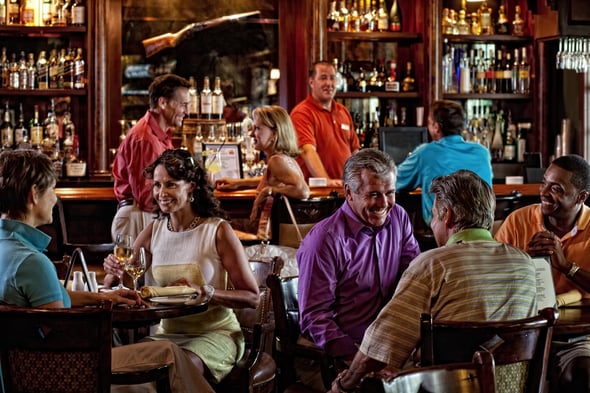 "The Founders Club is truly a unique and special place, combining great surroundings and just wonderful people," says resident Humberto Vainieri. Humberto and his wife, Deborah, enjoy the intimate, family feel of this exclusive new home community in Sarasota. When the couple first moved to The Founders Club, Deborah was not a golfer so she was looking for something else to do. From pilates to yoga, card groups to ladies trips, and luncheons, Deborah agrees that "there's a lot to do. It's a very friendly place to be."
Designed to be equally intimate and accommodating, The Founders Club is comprised of just 262 new luxury homes and plenty of carefully selected features designed to enrich active residents of all ages. Each resident has access to all of the Club's signature community amenities and activities are abundant for individuals with a wide array of interests.
While the award-winning Robert Trent Jones, Jr. golf course serves as a dramatic highlight of the community, The Founders Club is not all about golf. Popular with residents, the elegant Founders Golf and Social Club includes a fine dining room, bar and grille, and outdoor verandah — perfect for enjoying time with friends after a day on the green. The Club's fitness facility and outdoor sports area are also popular with residents, featuring basketball, sand volleyball, Har-Tru tennis courts, and miles of walking paths.
Homeowners actively use the amenities and form close relationships with one another making the Founders Club a welcoming and friendly environment. "My world has opened up even more," since moving to The Founders Club, says resident Deborah.
"Interacting with the club and the members is truly unique, it has a great family feel to the place, really close relationships between the residents and lots and lots of functions going on," says an additional homeowner.
https://www.youtube.com/watch?v=k_8pMH1a69I
There is something for just about everyone at The Founders Club, and an intimate community of friends to enjoy it with. View galleries of homes and amenities by downloading our interactive brochure today.