Spring is in the air and if you want your interior design style to match the beautiful weather and picture perfect setting of the Florida lifestyle, let our luxury partners help. The interior designers from Romanza Interior Design have put together a list of design trends that speak to spring and can work for just about any luxury custom home.
The Colors of Spring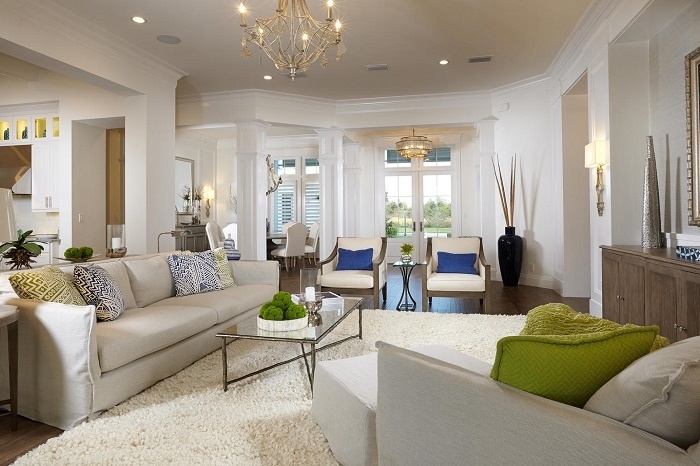 Spring doesn't have to be about pastels, but color is always a great option. This season's trends are continuing the path set forth at the beginning of 2016 with bright pops of color set against neutral backgrounds for maximum exposure. The goal for this trend is to create a bright and airy setting, like the living room in our Isabella Two-Story. This estate home in The Founders Club provides a coastal design with soft greens and bright and aqua blues. The living room, specifically, features neutral shades in the slip-covered sofa, chair, and ottoman with bright navy and green patterned pillows for that pop of color. An apple green hexagonal garden stool adds an extra piece of colorful flair in this custom design.
Warm Like the Sun's Rays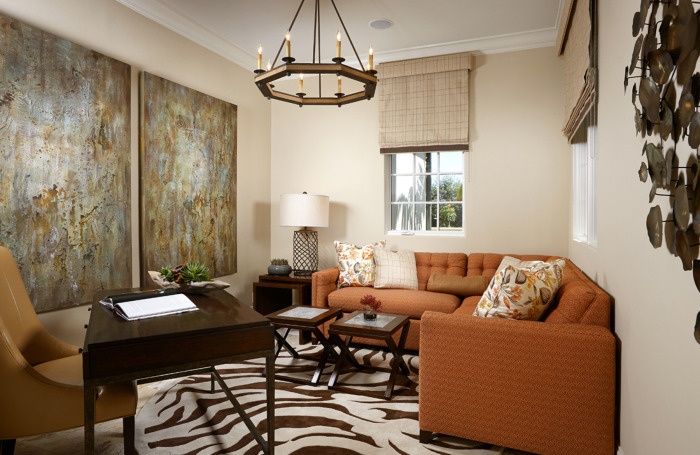 Bring the warm tones of our beautiful sunsets into your home with the new spring trend of burnt orange and gold. These inviting colors are reminiscent of a cozy walk on our award-winning beaches at sunset and evoke a feeling of warmth and security. To create a cozy place in your home, take a tip from the study in the Girona villa home. The burnt orange sofas set opposite framed artwork with gold paint strokes amidst other warm colors provide an inviting setting for your workspace.
Coastal Contemporary
Coastal interior design has always been a popular home style for Florida homeowners and the spring trends do not leave this tranquil design scheme behind. Soft blues and greens, as well as browns and other neutral colors continue being a trend, but the addition of clean, contemporary lines brings an updated look to the classic design. The kitchen of our Belita model shows off this interior design with a cool, beachy look in the blue and green accents, natural fibers, and crisp clean fabrics in conjunction with the furniture adorned with metal pieces, the bronze tile backsplash, and an antique copper-finished door and drawer pulls.
Meshing with Metallics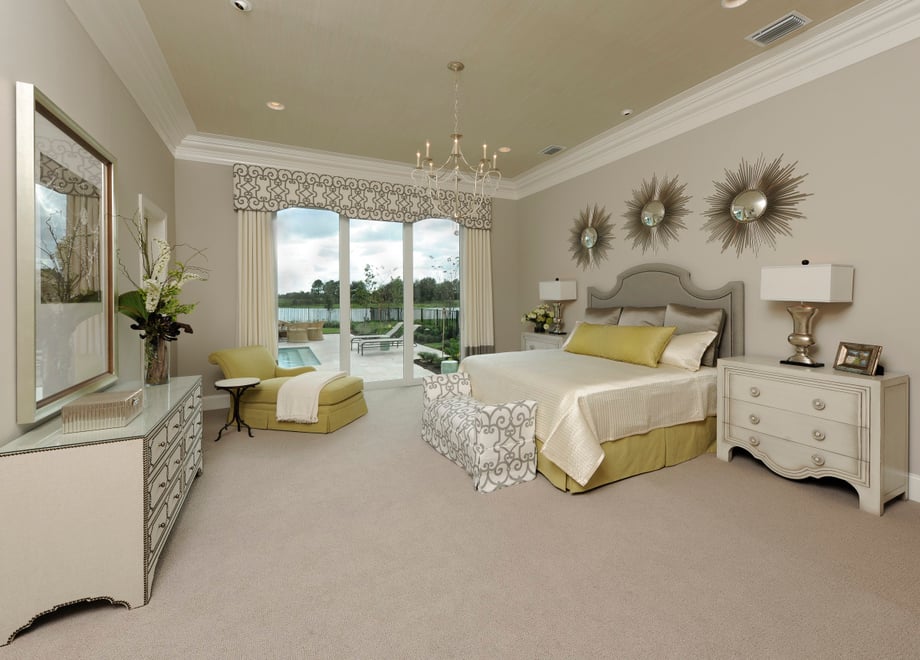 If warm tones and beach styles aren't your path to home design passion then you may like the cooler, cleaner design of metallics mixed with a white and gray color palette for a simple, but chic look. This design scheme can be done just as is or you can add one accent color for a little non-neutral pop of color. Our Delfina model home does just that in the master bedroom with its muted citrus and gray accents against the soft white found in the linen lamp shades, nightstands, dresser, and bedding. The subdued nature of the room is livened with pewter accents in the furniture, bedding, and ornate starburst mirrors above the bed, as well as in the scrollwork embellishing the window treatments and the upholstery of a bench at the foot of the bed.
The spring trends of 2016 leave no stone unturned in terms of style and each of these custom design options can be found in many of The Founders Club homes in Sarasota. Schedule your tour to discover your ideal home and style or contact us to being designing and building a luxury custom home that speaks to your style and personality.