A masterfully designed home is the perfect complement to the elegance of The Founders Club. And at London Bay Homes, we are committed to building the finest luxury homes in Sarasota, Florida – homes that are perfect reflections of our clients' distinctive tastes and individual personalities. Our unique partnership with Romanza Interior Design allows us to deliver the true luxury of a tailored fit for every client we work with.
Romanza's Senior Interior Designer, Melissa Allen, recently sat down with us to talk about design trends, the Sarasota, Florida lifestyle, and how Romanza can create the perfect luxury home for anyone looking to build at The Founders Club.
What's trending now in interior design?
Brass has become the new satin nickel. When executed correctly using warmer gold tones, adding brass accessories, lamps, occasional tables, and decorative lighting can be very elegant. Mixing metal finishes in accessories and décor has also been received well.
Wide-planked, lighter oak wood floors have taken the place of the ever-so-popular dark espresso wood floors. Wire-brushed European white oak floors with a coat of wax are also very durable and more casual for the Florida lifestyle.
Finally, we're seeing more clients opt for a more timeless look and not worrying about keeping up with all of the latest trends that don't stand the test of time. In doing so, this allows for the integration of more unique pieces to give your home a more personal touch and everlasting eclectic appeal.
Hear How Melissa Achieves the Perfect Look:
https://www.youtube.com/watch?v=E0trseq_SMQ
How do you incorporate the Sarasota, Florida lifestyle into your designs?
When I think of the Sarasota lifestyle, I think of living in paradise and enjoying the beach, golf, alligators, dolphins, boating, fishing, sunsets, birds, seashells, starfish — the list goes on. Our lifestyle revolves around guests, family, vacation, and an ease of living not everyone gets to enjoy all year round. Your home can reflect this type of lifestyle by using light, airy, and natural materials and colors, mixing key sentimental and valuable décor from previous homes, and choosing materials that are casual, practical, and functional in order to enjoy the ease of living in Sarasota.
You've designed quite a few London Bay Homes. Which one has been your favorite?
This is a very hard question, as all of the homes I work on have an element of distinction that sticks with me. What is most satisfying for me is the end result and witnessing how I have contributed positively to a client's lifestyle. One of the biggest unspoken complements I receive from a client is when I walk back into their home 5+ years later and not much has changed or moved, including the accessories.
I'm very excited to be working with London Bay on a custom home that will be built in The Founders Club. Different than the majority of my clientele, this is a very young family who will be building their dream home, which they plan on living in for the next 20 years. Designing a home of this nature and working so closely with the architectural staff has already been rewarding. It will be difficult waiting two years to see the finished product, but I know that each stage of the process brings us closer and I will enjoy every aspect of it.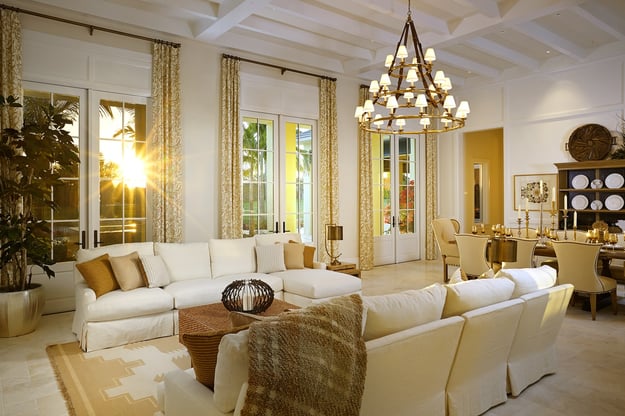 What are the benefits of designing with Romanza?
Romanza is a full service interior design firm that not only has a very talented staff, but also understands the importance of relationships. Building a relationship with our clientele that stems from trust, security, and professionalism is our first priority. We take pride in our ability to evaluate our client's needs, lifestyle, and personality to design the space of their dreams. Our team is comprised of specialists trained to make sure the process flows smoothly and communication remains successful.
What services does Romanza provide for London Bay homebuilders?
Our team is grateful to be such an influential contributor to the design process of London Bay's homes. We provide everything from architectural detailing (including space planning, built-in and fireplace designs, ceiling and flooring details, and tile designs), to material specification (including flooring, cabinetry and countertops, fixtures, decorative lighting, paint and wall-coverings, roof tile, pavers, and pool tile), to furnishing selections (including interior and outdoor furniture, window treatments, bed linens, decorative pillows, area rugs, lamps, accessories, artwork, and interior plants, trees, and floral arrangements). For all projects, we take an active role in collaborating with the architects, contractors, and lighting specialists.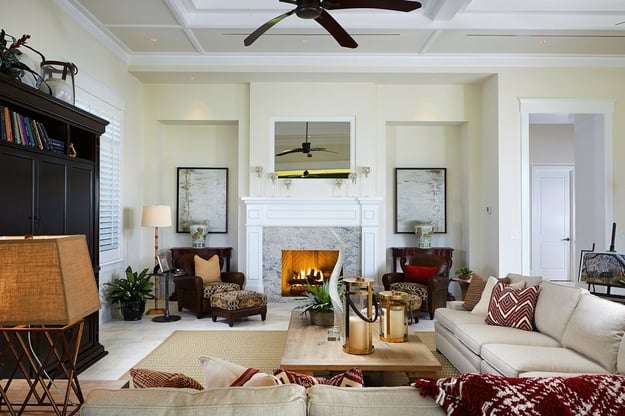 What advice do you have for someone thinking about building and designing a custom home?
The design process, from the initial consultation, to setting a budget and defining the design concept, should be a collaborative and enjoyable journey. Find a team of professionals that ask the right questions and listen closely to your needs – they should be willing to spend the valuable time it takes to develop a successful relationship with you and set the foundation for a successful project. Take the time to evaluate your requirements and desires in details and share visual inspirations online via websites like Houzz and Pinterest. Tools like this are the most effective form of communication — pictures speak a thousand words.
Discover our distinctive luxury home listings in Sarasota, Florida. Download our interactive brochure for more information on our collection of elegant custom new homes and signature amenities.