The Founders Club prides itself on the many luxury partnerships we maintain to provide an exceptional home buying and luxury living experience. Recently, in an effort to continue providing quality luxury custom homes in our boutique-style community, we began our preferred builder program with four additional luxury home builders joining our team.
"When a Realtor brings a client to The Founders Club, we partner to guide homebuyers in selecting their dream combination of the right builder and right home design that suits them best," said Steve Walker, senior project manager for London Bay Homes, which manages all sales and marketing for the community. "With a portfolio of customizable floor plans to fulfill a variety of scenarios, we can offer homeowners selections that seamlessly blend with The Founders Club's natural beauty and complement the community's lifestyle."
These Sarasota home builders allow The Founders Club to offer many floor plans and customization options to fit any lifestyle, and each is unique in their process, but identical in their aim to providing exceptional quality and service. Get to know our Sarasota home builders by following our Featured Sarasota Home Builder blog series, starting with Anchor Builders.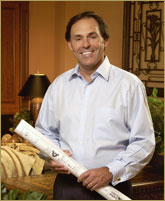 Since 1989, Anchor Builders has had a spotless reputation in Southwest Florida for building elegant custom homes for those who appreciate true quality and attention to detail. Roy Dupuis, president of Anchor Builders, enjoys being personally involved with each homeowner, sitting down with them and the architectural designer to create a home that fits their needs and wants. Homeowners can choose a floor plan as is, modify it to fit their needs, or start from scratch with a completely new design. With competitive pricing and the unfailing dedication of their subcontractors, some of who have been with the company for years, Anchor Builders completes each project with special attention paid to finish and quality.
Whether you're customizing an Anchor Builders model home or building a unique residence from the ground up, a home in The Founders Club built by this trusted builder is sure to exceed your high expectations. Luxury custom homes in our community range from 2,200 square feet to more than 6,000 square feet with three-to-five bedrooms on our expansive home sites. These estate home sites range from a half acre to one acre - and each one is surrounded by lakes, wetlands, nature preserves, a golf course, or often all four so you can appreciate the beauty of your natural surroundings. The new luxury custom home opportunities will provide many great design options and flexibility so you can have the chance to express your own personal style in a beautiful Sarasota luxury community.
Contact The Founders Club to get full details on the many home building options available to you. You can also stop by our Sales Center Monday through Saturday from 9am to 5pm, and Sunday from 10am to 5pm. We are located at 3001 Founders Club Drive, three miles east of I-75 on Fruitville Road. This prime location allows our residents to be close to everything Sarasota has to offer while still being able to take refuge in our boutique-style community with 700 acres of lush landscape, nature preserves, and glistening lakes, and a growing number of luxury amenities.