As a Sarasota golf community, The Founders Club can boast of its challenging, yet rewarding Robert Trent Jones Jr golf course that offers year-round golf with no tee times required, Sarasota's only traditional caddie program, and a membership limited to 275 members. It can also boast of luxury homes with the style and quality to complement your luxury living lifestyle. But the benefits of living in our boutique-style community go beyond that of the greens and the homes. At The Founders Club, you can be sure you'll find like-minded, friendly people that will make you feel at home from the moment you walk through the doors.
This was the case with Kate and Peter Bradley, who knew they had found their home the very first night they entered The Founders Club Golf and Social Club: "I can remember the very, very first night we had at the Club…Everybody was just so happy and the atmosphere was just electric. I think we all started becoming friends from that very first night."
Many of The Founders Club community residents take part in a variety of social activities in the 24,000-square-foot Golf Hall that allow them to find and cultivate friendships. The friendly and professional staff at the club manages a full calendar of social, sport, and wellness activities, including Bingo Nights and Trivia Nights (matched up with a fun-filled themed dinner), wine tastings, gourmet kitchen and cooking classes, luxury auto and boating showcases, monthly mixers, and many other activities. Residents also find that they enjoy taking advantage of the fitness facility with state-of-the-art equipment as well as a variety of fitness classes like Yoga, dance classes, or Pilates. Residents can also spend their days on the Har-Tru tennis courts, the basketball courts, the sand volleyball courts, or on the boardwalks. This abundance of activities lead Raymond and Sylvia Rocco to discover that The Founders Club is an ideal community to nurture an active social life. "When you come from a different state and don't know anybody, it's important to have a social life and within a month, I had one," said Sylvia Rocco.
Her husband, Raymond, enjoys the social aspect associated with dining at The Founders Clubhouse. "It's large enough so that there are enough people we call very close friends, who are always here, but small enough to be intimate, personal."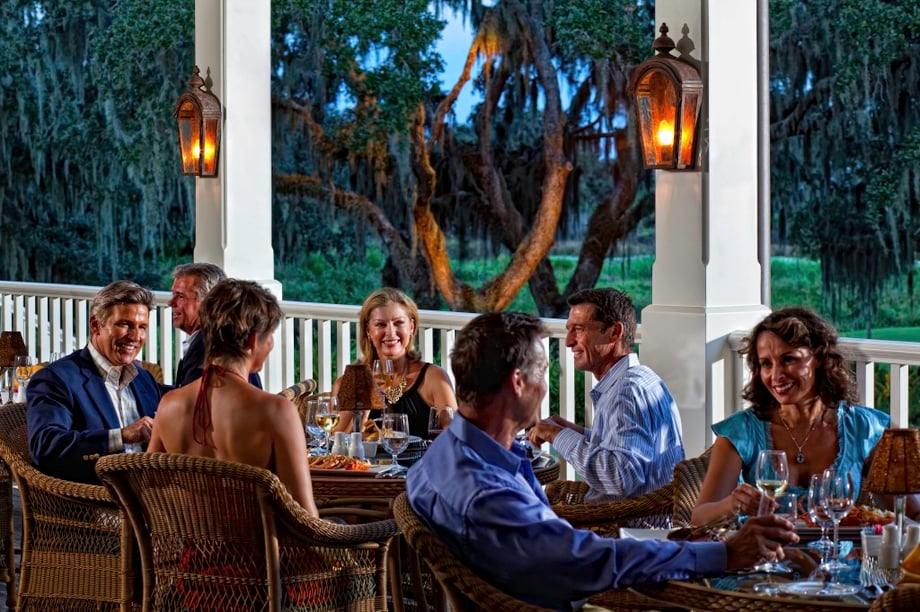 The Founders Club Chef enjoys creating delicious culinary experiences for all residents and members to enjoy. The fine dining room offers an elegant setting for a luxurious dining experience, while the bar and grille and outdoor verandah overlooking an oak hammock provide a casual atmosphere for a delectable lunch. Reservations can be made for two, but after arriving, you may find yourself seated in a table of eight enjoying food, drinks, and fun!
Sylvia Rocco also enjoys the location of The Founders Club, as her and her friends can walk the bridge to St. Armand's to have breakfast. The Founders Club is located east of I-75 so residents are in close proximity to St Armand's Circle, Downtown Sarasota, and the beaches, but can still appreciate the more than 700 acres of natural beauty that The Founders Club has to offer. The luxury home community is also just one exit away from the Mall at University Town Center, a shopping center that brings together world-class fashion and dining to Sarasota.
There are many activities for just about everyone at The Founders Club community and many residents and members with which to enjoy each and every one of them. One of the best ways to determine if a community is right for you is to listen to what the current residents and members have to say about living there. Watch the video above to hear firsthand from The Founders Club residents and members and discover why Meredith and Vincent Conti just looked at each other and said, "We don't need to look any further. This is it."
Contact us or download our brochure to learn more about our luxury home community.