Making your move to Sarasota, FL, or finding an upgrade to your existing home, just got that much more enticing with The Founders Club's new End of Season Sales Event. From now until April 30, 2016, The Founders Club will be offering a special incentive to the first three buyers of their Move-In-Ready Sarasota homes. The first buyer will receive a $100,000 savings off of the asking price of their home, the second buyer will receive $75,000, and the third buyer will receive $50,000. As an added bonus, if a REALTOR® was used for the sale, they will receive a $10,000 bonus.
This new End of Season Sales Event will provide an irresistible opportunity to purchase a home in our boutique-style Sarasota golf community featuring more than 700 acres of lush landscape, nature preserves, and glistening lakes. In addition to our natural beauty, The Founders Club also has a growing number of luxury amenities, including a Robert Trent Jones, Jr.-designed golf course with state-of-the-art training facilities, a fitness facility offering a variety of classes, and the grand, 24,000 square foot Golf Hall with a full calendar of social, sport, and wellness activities. The best part of purchasing one of our luxury Sarasota homes during this sales event is knowing that you are saving money on a home that is as breathtaking as the community it's in. Each of the homes in the 2015 Parade of Homes winner for Best Overall Community is built on an oversized home site and is surrounded by a gorgeous view of the golf course, nature preserves, wetlands, lakes, or often all four.
The End of Season Sales Event is only going on until April 30, 2016 and savings will be offered on a first-come, first-serve basis upon signing of a binding contract and payment of deposit. To get started on your path to savings, contact our Sarasota sales team for full details on our End of Season Sales Event or begin by previewing the five Move-In-Ready model homes included in this special offer. Each home was built by America's Best Builder, London Bay Homes, and finishes and furnishings were provided by Romanza Interior Design, winner of the NAHB Gold Award for Best Interior Design of a Custom Home.
Isabella Two-Story Estate Home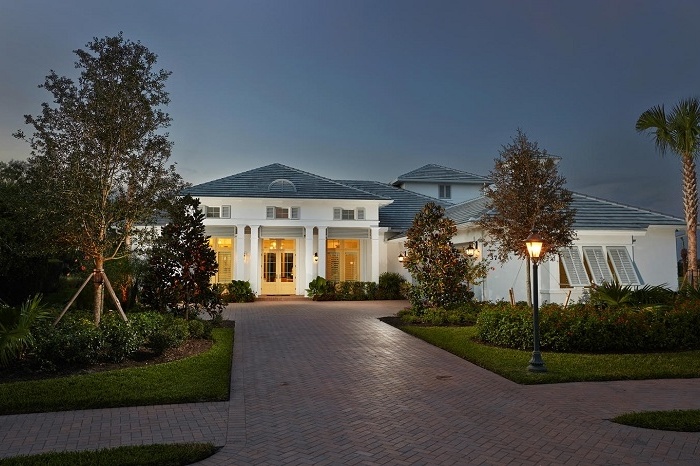 The Isabella Two-Story is The Founders Club's newest model home and is an expanded version of one of London Bay Homes' most popular Reserve Collection floor plans: the Isabella. What makes the Isabella so special is the expansive outdoor living space found in the now 4,265-square-foot home which features a full summer kitchen with a grill, sink, and refrigerator, as well as a sparkling pool for a total of 6,353 square feet. With the new dimensions, the Isabella Two Story features a fourth bedroom, a fifth bathroom, a serene sitting area with a wet bar and refrigerator, and a covered balcony on the second floor, as well as more square footage on the first floor. These additions join the formal dining room, study, café, summer kitchen, the large master suite with patio, and the open great room plan. The Isabella Two-Story is priced at $2,374,490, but you can purchase it for up to $100,000 less than the asking price.
Schedule your tour of the Isabella Two-Story estate home.
Delfina Estate Home
The Delfina is a four bedroom plus den, four and one half bathroom single family home that offers the perfect space for entertaining. It comes ideally equipped with a large family room that resides directly next to a gorgeous kitchen and living room, all of which open up to the outdoor living area or verandah. Our Delfina model home in The Founders Club takes full advantage of this setup with two plasma TVs set amidst the Delfina's expansive living area. The first plasma TV is located in the game room, while the second is a pop-up plasma TV situated between the game room and the family room. Food and relaxation come together for some fun in the optional, adjoining game room. The Delfina is priced at $2,178,900 before the incentive savings.
Schedule your tour of the Delfina estate home.
Girona Villa Home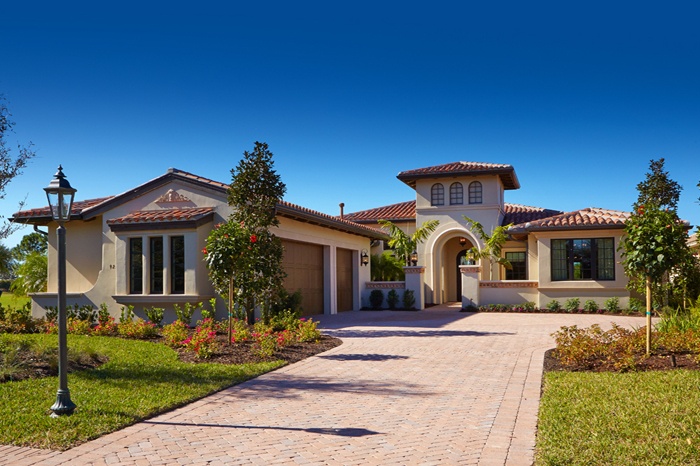 The Girona is one of London Bay Homes' most popular models, with four versions of the floor plan in Naples selling as soon as they were completed or even before construction was finished. This attractive plan features three bedrooms with 3,526 square feet including three baths and a powder room, a study and a three car garage. With its outdoor living areas and other spaces, the Girona features more than 5,000 total square feet with a golf and preserve view. This is a fully furnished model home offering a pool and spa with a full summer kitchen and a commercial-grade grill, site premium, and many other upgrades. The Girona is priced at $1,986,100 before the incentive savings.
Schedule your tour of the Girona villa home.
Isabella Grande Estate Home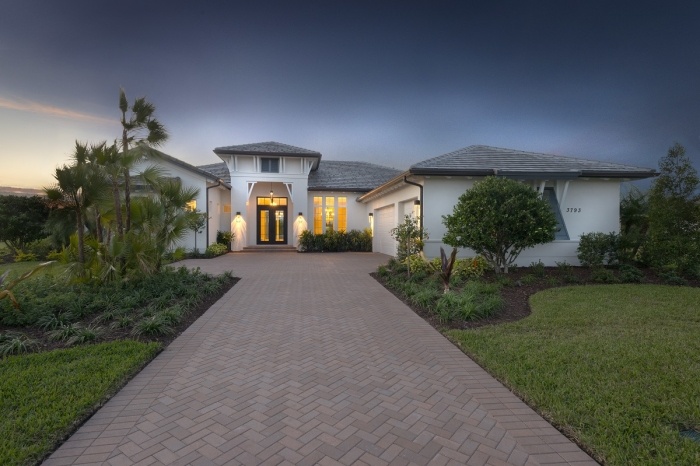 The new Isabella Grande is a revamped version of our popular Isabella model home with added square footage and a custom design to highlight the Master Suite. The estate home comes with three bedrooms and three bathrooms in 3,322 A/C square feet, as well as a gourmet kitchen with cafe, formal dining room, great room, and study. If the space indoors isn't enough, you can always open the French doors and inhale the fresh air from your outdoor living area complete with a sparkling custom pool and raised spa with spillovers set against lush nature preserves to ensure privacy. The Isabella Grande is priced at $1,494,779, but you can purchase it for up to $100,000 less than the asking price during the End of Season Sales event.
Schedule your tour of the Isabella Grande estate home.
Belita Villa Home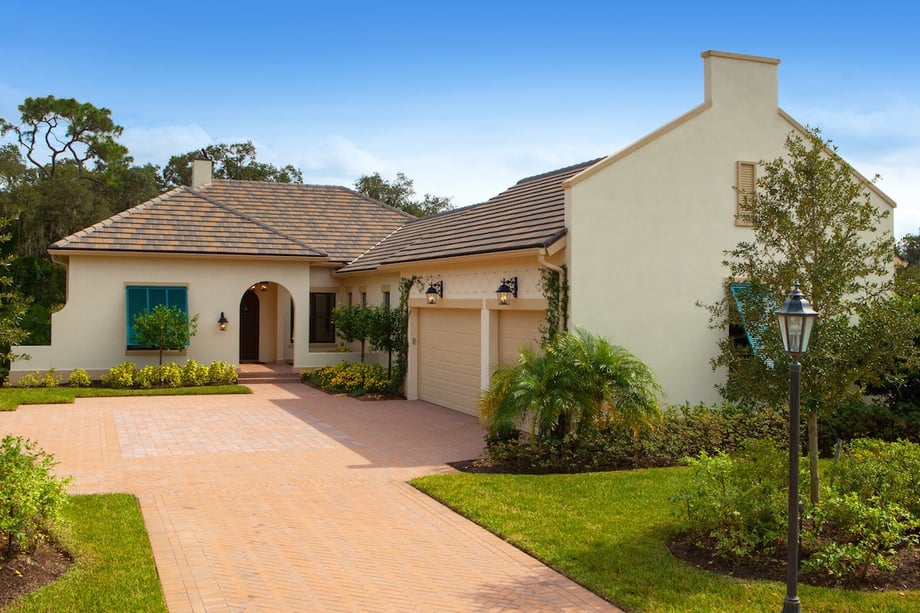 The Belita is a semi-furnished villa home that features three bedrooms, three bathrooms, and a study in its 3,091 square feet under air. Its open floor plan design allows for an airy feel throughout the home as it leads to the outdoor living area with a sparkling pool and summer kitchen overlooking an abundance of Oak Hammocks. Romanza Interior Design fully-furnished this home's great room, formal dining room, breakfast nook, and outdoor living areas with a beach-inspired theme. The charming cottage-style home features a neutral palette of browns, tans, and creams with powder blue and green accents throughout. There is ivory-toned tile flooring set in a running-board pattern in the great room and naturally aged eucalyptus flooring with a river rock finish in the study. The Belita is priced at $1,372,840 before the incentive savings.